Wu suggests aid giving as topic for anniversary film
The many stories related to Taiwan's decades-long tradition of giving aid to other countries could be adapted into a film, including the program "A Lamp Lighting Up Africa" that Taiwan is promoting in Burkina Faso Premier Wu Den-yih (吳敦義) on Sunday said.
The films could be shown next year as part of celebrations for the Republic of China's 100th founding anniversary, Wu said while hosting a dinner for Taiwanese diplomats and expatriates upon his arrival in the West African ally on a one-week visit.
The lamp project, for example, could be adapted into a TV drama centered on a protagonist who goes to Burkina Faso to carry out the work, blended with issues such as kinship and friendship, Wu said.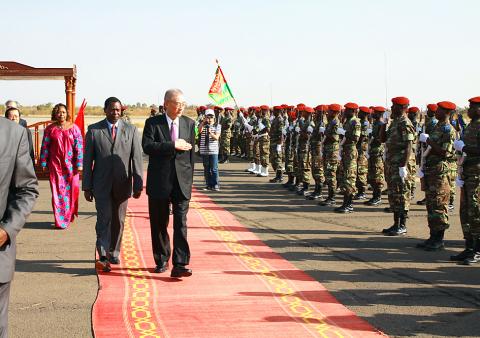 Premier Wu Den-yih, center, is welcomed at the Ouagadougou International Airport as he arrives in Burkina Faso on a one-week visit yesterday.
PHOTO: CNA
The project is aimed at bringing electric light to the homes of -disadvantaged Burkina Faso students, who are often forced to study on the streets at night by the light of street lamps because they do not have electric lights at home.
Under the program, systems that generate power using photovoltaic cells have been installed in participating schools and each student has been given an LED lighting kit equipped with a rechargeable battery that lasts four-and-a-half hours. The children can recharge their lamps at school and bring them home to use at night.
Wu is the first Taiwanese premier to visit the Burkina Faso since the two countries resumed diplomatic ties in 1994. The main purpose of the visit was to attend the inauguration yesterday of Burkina Faso President Blaise Compaore for a new term.
During his stay, Wu will also host the completion ceremony for a Taiwan-funded vocational -training center and visit a new hospital, which was constructed with the help of a loan from a Taiwanese bank. The hospital is scheduled to open next year.
Immediately after his arrival earlier in the day, Wu had brief discussions with Burkina Faso officials at the airport, in which he expressed hope that bilateral -cooperation can be further enhanced.
Burkina Faso Minister of Agriculture Laurent Sedego said the rice output of his country had doubled thanks to the assistance of an agricultural technical mission from Taiwan. As a result of the assistance, the minister said, within two years the country will no longer be dependent on imported rice.
Comments will be moderated. Keep comments relevant to the article. Remarks containing abusive and obscene language, personal attacks of any kind or promotion will be removed and the user banned. Final decision will be at the discretion of the Taipei Times.