Lee denies adultery, sues
Sinbei City councilor-elect Andrean Lee (李婉鈺) yesterday denied involvement in an adultery scandal and filed a defamation lawsuit against the Chinese--language Next Magazine over a report.
The Democratic Progressive Party's (DPP) Lee, 39, won a seat on Sinbei City council last month after receiving more than 20,000 votes. She worked as a flight attendant with China Airlines and as a model before entering the politics, and was probably previously best known for having dated DPP Legislator Kao Jyh-peng (高志鵬) last year.
A report in the magazine on Wednesday claimed that she had a love affair with a married man named Lin Chen-chi (林承祺) and owed him more than NT$40 million (US$1.3 million).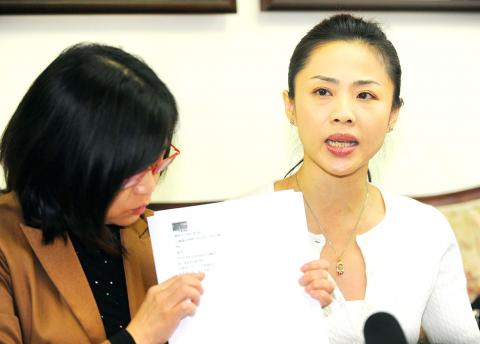 Democratic Progressive Party Sinbei City councilor-elect Andrean Lee, right, holds a press conference yesterday about an article in Next Magazine.
PHOTO: LO PEI-DER, TAIPEI TIMES
The relationship later went sour over the alleged debt, the report said. The magazine alleged that Lee told Lin that she would pay the debt by sleeping with him and that she had gangsters beat him up as a warning.
The councilor-elect yesterday denied all of the allegations at a press conference and described Lin as a stalker who had sexually harassed her with endless phone calls.
"The story is not true. Lin's mental state is unstable. He is a psycho who would call me at night and show up at my workplace uninvited. I tried to stop his -harassment by calling his wife, but it didn't work," she said.
Lee denied the allegation that she owed Lin money.
"I have never needed to borrow money from anyone and I hope Mr Lin will speak up and prove my innocence," she said.
Lee said the magazine had failed to contact her to confirm the story and that she had visited the prosecutors' office in Banchiao to file a NT$100 million lawsuit against the magazine.
Comments will be moderated. Keep comments relevant to the article. Remarks containing abusive and obscene language, personal attacks of any kind or promotion will be removed and the user banned. Final decision will be at the discretion of the Taipei Times.