Paraguay could offer Taiwanese visa-free entry
COMING SOON: An official from Paraguay's anti-drug agency said the president of Paraguay would make arrangements to visit Taiwan once he is invited
Paraguay could soon grant Taiwanese tourists visa-waiver privileges, a visiting Paraguayan official said in Taipei yesterday.
Cesar Aquino, executive secretary of the National Anti-Drug Secretariat of Paraguay, said Paraguayan President Fernando Armindo Lugo Mendez had told him before the trip that he would soon agree to grant visa-free privileges to visitors holding Republic of China (ROC) passports.
Aquino said Lugo also told him he would make immediate arrangements to visit Taiwan as soon as he receives an invitation.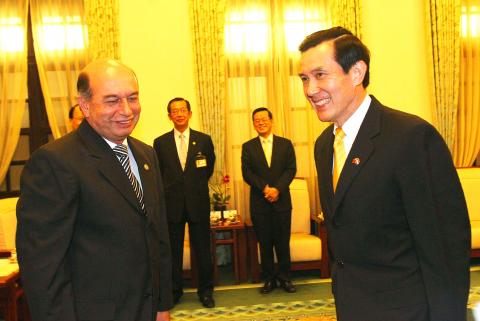 President Ma Ying-jeou, right, meets Cesar Aquino, executive secretary of the Paraguayan National Anti-Drug Secretariat, at the Presidential Office in Taipei yesterday. Aquino said Paraguay would soon grant visa-free entry to Taiwanese.
PHOTO: CNA
Aquino made the remarks during a morning meeting with President Ma Ying-jeou (馬英九) at the Presidential Office.
Ma said that he welcomed the -possibility of Lugo's visit and the visa-waiver program on behalf of the ROC government and the nation's people.
Ma said he hoped to see more than 100 countries offer visa exemptions or landing visas to Taiwanese visitors next year when the ROC celebrates the 100th anniversary of its founding.
Earlier last week, the Council of the EU agreed to add Taiwan to the list of visa-waiver countries proposed by the European Commission for Home Affairs in June. The policy is expected to officially come into force in the middle of next month.
The decision means holders of ROC passports will no longer require a visa when traveling to 35 countries and territories in Europe, dubbed the Schengen Area, for up to 90 days.
This includes EU member states, excluding the UK and Ireland, which granted visa-free entry to Taiwanese last year, as well as Andorra, Liechtenstein, Morocco, San Marino, the Vatican, Greenland and the Faroe Islands — both exempted territories of Denmark — and non-EU member states -Iceland, Norway and Switzerland.
On combatting drugs, Aquino said Paraguayan police had joined forces with their Brazilian counterparts to crack down on marijuana planted along borders and -stopping drug traffickers from using Paraguay as a transit stop for composite drugs.
Ma, who served as justice minister between 1993 and 1996, said he attached great importance to combatting drugs.
During his stint as justice minister, Ma said he declared a "war on drugs" and successfully reduced drug-related crimes and the population of young people using drugs. He attributed the success to a three-prong approach that comprised cracking down on drugs, encouraging young people to refuse drugs and helping drug addicts kick the habit.
Comments will be moderated. Keep comments relevant to the article. Remarks containing abusive and obscene language, personal attacks of any kind or promotion will be removed and the user banned. Final decision will be at the discretion of the Taipei Times.