ECFA part of a political process, academic says
The Economic Cooperation Framework Agreement (ECFA) signed in June is a measure of political expediency rather than a market-led process, an economics professor said at an international forum in Taipei yesterday morning.
Joe Thomas Karackattu, a research fellow at the Institute for Defence Studies and Analyses in India, said that while regional economic cooperation had created economic growth, it was an insufficient condition for deeper "economic interdependence" in East Asia — with the exception, to some extent, of Taiwan in its pre-ECFA days.
The recent Chinese decision to temporarily suspend supply of rare earth metal exports to Japan adequately proves that China was prepared to shift the bargaining arena from political-military dimensions to economic dimensions in the aftermath of the diplomatic row with Japan that plunged bilateral ties to a five-year low, he said.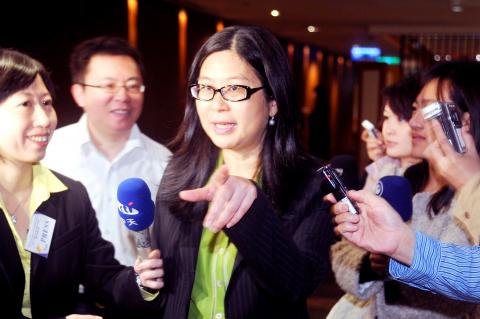 Mainland Affairs Council Minister Lai Shin-yuan addresses reporters yesterday during the two-day "Cross-Strait Interactions and Power Relations in East Asia" conference, which is being hosted by the Institute for National Policy Research at the Grand Formosa Regent Taipei.
Photo: Lu Chun-wei, Taipei Times
One reason for this weak regional interdependence is that integration has been market-led, unlike Europe, which was distinctly institution-led, he said. In addition, the region continues to hold on to non-tariff barriers, regulatory barriers and preferential agreements focusing on narrow sectors for political expediency.
"I definitely feel that market-led processes [in Taiwan] are basically steps of political expediency, even if you look at ECFA for instance, these are basically measures of political expediency ... and not a genuine reflection of market-led processes," Karackattu said.
The two-day "Cross-Strait Interactions and Power Relations in East Asia" conference is organized by the Institute for National Policy Research and the Mainland Affairs Council (MAC).
Scott Kastner, an associate professor in the University of Maryland's department of government and politics, said deepening economic integration across the Taiwan Strait could alter the possibility of a China-Taiwan military confrontation.
Economic ties, he said, can alter the costs of war and can help reduce uncertainty by making it easier for states to credibly signal their resolve. They can also affect underlying preferences relating to unification and independence in both Taiwan and China, he said.
MAC Minister Lai Shin-yuan (賴幸媛), who delivered the welcoming remarks, thanked Beijing for extending what she called "goodwill" over the past two-and-a-half years, which she said helped transform cross-strait tension to benign interaction.
"Such an achievement has not come easily," she said in English. "We salute the goodwill and efforts exerted by mainland China in the past two-and-a-half years and appeal to everyone on both sides of the Taiwan Strait to protect and treasure these hard-won gains."
She attributed the achievements in cross-strait development to the public, saying: "If we understand, respect and safeguard the core interests of the Taiwanese people, cross-strait relations will be able to develop in a more stable forward direction."
Lai defined the core interests of Taiwanese as democracy, sovereignty, security, the right to free choice on the future of cross-strait relations, the right to meaningful participation in international organizations, the right not to be discriminated against and the right of the disadvantaged to survival.
Only by moving cross-strait ties in a stable, forward direction can both sides cement the foundation of peace and prosperity across the Taiwan Strait and "avert all risk of ever turning backward again," she said.
Comments will be moderated. Keep comments relevant to the article. Remarks containing abusive and obscene language, personal attacks of any kind or promotion will be removed and the user banned. Final decision will be at the discretion of the Taipei Times.