2010 ELECTIONS: Chen Chu secures Greater Kaohsiung
A NEW BASE: The mayor won a huge victory with over 50% of the votes, increasing her support base, while the number backing the KMT plunged
Kaohsiung Mayor Chen Chu (陳菊) of the Democratic Progressive Party (DPP) yesterday won a landslide victory in her bid for re-election, overwhelming her two rivals by securing more than half the vote.
Chen received 52.8 percent, or 821,089 votes, beating Kaohsiung County Commissioner Yang Chiu-hsing (楊秋興), who came in second by garnering 414,950 votes, or 26.68 percent of the vote.
Chinese Nationalist Party (KMT) candidate Huang Chao-shun (黃昭順) received only 319,171 votes, or 20.52 percent — a sharp fall when compared with the 622,318 votes received by Huang Chun-ying (黃俊英) and Lin Yi-shih (林益世), the party's candidates in the last Kaohsiung mayoral election and Kaohsiung County commissioner election in 2005 and 2006 respectively.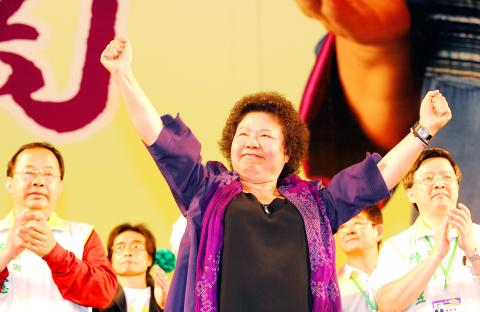 Kaohsiung Mayor Chen Chu raises her hands in victory as she thanks supporters after winning the Greater Kaohsiung mayoral election yesterday.
PHOTO: CHANG CHUN-YI, TAIPEI TIMES
The Greater Kaohsiung area had a total electorate of 2,166,119 for yesterday's mayoral election.
The turnout was 72.5 percent, much higher than the 65.47 percent in the 2005 election and the 67.93 percent turnout in the 2006 poll.
Even added together, the total number of votes for Yang, who ran as an independent and Huang did not exceed Chen's final tally.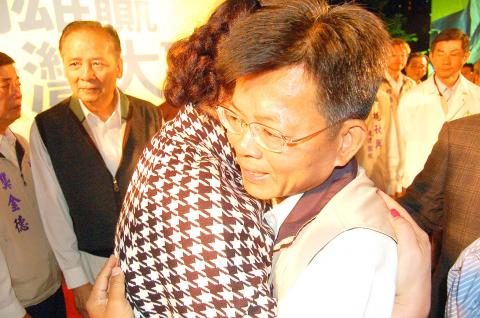 Greater Kaohsiung independent mayoral candidate Yang Chiu-hsing is hugged by a supporter after he conceded defeat in yesterday's special municipality election.
PHOTO: TSAI CHING-HUA, TAIPEI TIMES
Chen had been the frontrunner in the mayoral race since the DPP nominated her in April, but her popularity dipped after she admitted in late September to taking a nap during a typhoon when almost half of the city found itself knee-deep in water.
Nevertheless, Chen successfully expanded the DPP's support base in Kaohsiung by winning 88,440 more votes than the 732,649 votes the party secured at the last mayoral election in 2006 and the last county commissioner poll in 2005 combined.
However, the support base of the KMT, which won 378,303 votes in the mayoral bid in 2006 and 244,015 votes in the commissioner race in 2005, shrank by at least 300,000 votes based on the votes Huang received.
GRAPHIC: TT
There was also a dramatic decline in Kaohsiung County voters' support for Yang, who outperformed his KMT opponent Lin Yi-shih by taking 353,232 votes, or 59.14 percent, in the county when he ran for the post of Kaohsiung County commissioner as a DPP candidate in 2005.
Kaohsiung city and county — two traditional DPP strongholds — are to be merged into a special municipality on Dec. 25 and will become the nation's second-largest administrative district.
After the merger, Greater Kaohsiung will have 2.77 million residents and an administrative district that is about 20 times the size of the city's original area.
Chen's supporters began to gather at campaign -headquarters early yesterday afternoon to watch the televised ballot count.
They applauded, yelled, blew vuvuzelas and set off fireworks and firecrackers as Chen took an early lead and maintained her advantage throughout the four-hour vote count.
Chen's campaign headquarters announced her victory around 7pm, hours before the Central Election Commission (CEC) publicized the final result.
In a rally that attracted tens of thousands of supporters in front of her campaign headquarters, the mayor was greeted with rounds of applause and deafening cheers.
"Kaohsiung, go," her supporters chanted. "Chen Chu is elected."
Chen said she was very moved by Kaohsiung residents' support for her and expressed gratitude for their votes.
"Kaohsiung values won. Kaohsiung residents won," she said during a speech at the rally. "During the campaign, I met with many difficulties, but I always believed that the majority of Kaohsiung residents would recognize the efforts I have made."
Chen vowed to be humble and to carry out her campaign platform and promised to deal equally with residents of the city and county.
"I will dedicate my life to serving as mayor," Chen said.
She also pledged to incorporate the platforms of her two rivals and urged residents to work together across party lines after the election in the interests of Kaohsiung.
Meanwhile, at Yang's campaign headquarters, the candidate conceded defeat at 7:30pm.
"I failed," Yang said, adding that he accepted the voters choice, while congratulating the mayor on her success. Yang said he would spend his time doing charity work in the future.
In northern Kaohsiung, a tearful Huang conceded at 7pm and expressed gratitude to her supporters.
She also offered her best wishes to former KMT vice chairman Lien Chan's son Sean Lien (連勝文), who was shot by an alleged gang member during a KMT rally in Yonghe City (永和), Taipei County, on Friday, adding that she hoped such an incident would never again happen in Taiwan.
Comments will be moderated. Keep comments relevant to the article. Remarks containing abusive and obscene language, personal attacks of any kind or promotion will be removed and the user banned. Final decision will be at the discretion of the Taipei Times.