2010 ELECTIONS: PROFILE: Tsai seeking to change the face of campaign politics
Separated from the rising sun by a thin wall of sheet metal, Democratic Progressive Party (DPP) Sinbei mayoral candidate Tsai Ing-wen (蔡英文) walks at a leisurely pace amid a chorus of chopping knives, pausing every so often to shake hands and exchange greetings. It is a Tuesday morning and fresh off an election rally the night before, the DPP candidate is not your average figure alongside crates of fish, shrimp and calamari at a bustling fish market.
As Tsai, clad in her trademark slacks, light white jacket and sporting a conservative haircut, walks by with her entourage, an enthusiastic supporter, fresh from gutting a fish, reaches out his hand. She grabs it, exchanges pleasantries and continues to the next stall in the latest in a round of campaign events that will not end for at least the next 15 hours.
"She just did something I don't think her opponent would have done," said DPP poll director Chen Chun-lin (陳俊麟), a member of the party since 1995. "I've seen it, he wouldn't have shaken it [the supporter's hand]. What he would have done was probably just clasp his hands together and say 'good morning' or something."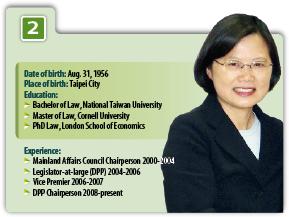 It's small moves like this that her supporters point to as indicative of how serious she is taking the race to become mayor of Sinbei, currently known as Taipei County and the nation's most populous municipality.
The careful and soft-spoken academic, who was re-elected to another term as leader of the DPP in May, has so far dodged accusations that she is using this election as a springboard for a possible presidential bid in 2012.
For Tsai, 54, this is her first public election, but it is not necessarily a step up, some party officials say in private, because the one-time vice premier and former head of the Mainland Affairs Council (MAC) had long been tapped as either a contender for president or mayor of the capital, Taipei City.
Holding a doctorate from the London School of Economics and a master's from Cornell University — both in law — her decision to run in the then-vacant candidacy in Sinbei City was made at the last minute, and some say, reluctantly.
Her final choice, which had kept supporters guessing for weeks, took place far from the hallowed headquarters of DPP leadership, but at a dining table in her residence on a Sunday afternoon.
"It wasn't an easy decision," Tsai told a media briefing the next day. "It wasn't made as a personal consideration, but took into account both the DPP and the country's future targets and goals."
The struggle exemplifies the challenges she faces, attempting to revive the prospects of the party she leads at the same time she is under pressure to prevail in the tightly contested election race with Chinese Nationalist Party (KMT) Sinbei mayoral candidate candidate Eric Chu (朱立倫). The nation's most populous municipality by far, winning the city is seen as an important indicator ahead of next year's legislative elections and the presidential poll in 2012.
Born to a wealthy family, Tsai, the youngest of four children, had a comfortable upbringing. She was raised in Taipei, where she went to competitive schools and later studied abroad. Upon returning to Taiwan, she first landed a position as a legal professor at Soochow University, but was quickly drawn into politics. She served as a consultant to the National Security Council, before helping draft former president Lee Teng-hui's (李登輝) "special state-to-state relations" concept, and was then appointed head of the MAC in 2000 and vice premier in 2006.
Despite her brisk rise in the DPP administration, she didn't join the DPP until 2004 after being nominated to serve a stint as -legislator-at-large for the party, a position that does not require being elected by the public. However, in May 2008, reeling from the DPP's losses in both the legislature and the Presidential Office, Tsai was seen as the "fresh blood" that the party was desperately seeking.
"At the time she had barely any experience," said a long-time party veteran, who declined to be named. "Suddenly she was expected to lead this party, plan rallies and issue speeches. It was a [relief] that she learned quickly."
It is this ability, along with her articulate, clear grasp of national issues and large base of grassroots support, that gives her a fighting edge in the Sinbei election, especially against Chu, a rising KMT star who matches her charisma and clean-cut image. However, far from simply following in other people's footsteps, Tsai has been quick to interject her own ideas into the campaign and control how it is fought, giving voters a rare glimpse of her personality in the process.
For example, she insists that her election material should include more than just her own image, overriding objections from some of her more experienced staffers.
"We had a debate about it," spokesperson Cheng Li-chun (鄭麗君) said. "Of course some of us believed that the main point of advertisements was to feature the candidate."
A quick look at a rural billboard in Bali Township (八里), side-by-side with a 3m high portrait of Chu fully clad in a baseball outfit, easily shows which side won that debate.
Against a white background, Tsai looks down and gently holds the hand of a five-year-old girl, with purple text above saying: "You can safely trust your future with me."
Softer advertisements like this, coupled with election promises that place a greater emphasis on social policies, including better daycare subsidies, investment in education and building more urban parks and other green spaces, are what her campaign says will attract more undecided voters, an important voting bloc. In addition, she has also pledged to accelerate urban development projects and give Sinbei City a more comprehensive transportation network.
Comments will be moderated. Keep comments relevant to the article. Remarks containing abusive and obscene language, personal attacks of any kind or promotion will be removed and the user banned. Final decision will be at the discretion of the Taipei Times.