Torrential rains to continue as typhoon moves slowly: CWB
WARNING: The Central Weather Bureau issued a yellow-coded landslide alert for 11 rivers in four villages in Yilan County's Datong Township
Rain fell across the nation yesterday, with Taipei and Yilan counties especially hard hit, as Typhoon Megi edges north after battering the northern Philippines, the Central Weather Bureau (CWB) said yesterday.
As of 8am, Megi was located 640km south-southwest of Eluanbi (鵝鑾鼻), the southernmost tip of Taiwan, moving north-northwest at 7kph.
Though it weakened after making landfall in the Philippines, the storm was still packing maximum sustained winds of 173kph with gusts of up to 209kph.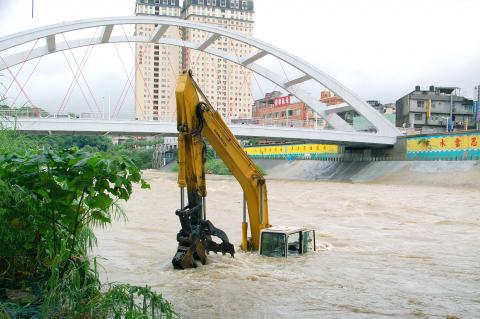 An excavator whose ignition failed while working on the bed of the Jingmei River near the Jingmei Bridge in Taipei yesterday is engulfed by the rain-swollen torrent. The driver was winched to safety.
Photo: Chen Ching-min, Taipei Times
The nation has experienced heavy rains in the past two days under the influence of the storm's outer rim and seasonal winds from the northeast.
With Typhoon Megi moving slowly, the bureau maintained its warning against torrential rain for northern and eastern Taiwan, as well as the Hengchun Peninsula at Taiwan's southern tip.
Bureau data showed that from midnight to noon yesterday, the highest levels of precipitation were observed in Taipei County's Shih-ding (石碇, 124.5mm) and Pingsi (平溪, 124mm) and Taipei City's Wenshan District (文山, 123.5mm).
Meanwhile, a yellow-coded landslide warning was issued earlier in the day for 11 rivers in four villages in Yilan County's Datong Township (大同).
In other developments, a magnitude 4 earthquake jolted Taitung County yesterday, but there were no reports of damage, the bureau said.
The tremor occurred at 6:32am, with the epicenter located 5.2km northeast of the bureau's Lidao seismic observation station in Taitung County.
It struck at a depth of 8.6km, bureau officials said.
Comments will be moderated. Keep comments relevant to the article. Remarks containing abusive and obscene language, personal attacks of any kind or promotion will be removed and the user banned. Final decision will be at the discretion of the Taipei Times.