Group calls for regulation of sodium content in food
HEALTH RISKS: The government should require that a warning label be displayed on packaging for food with high sodium content, the Consumers' Foundation said
A consumer advocacy group yesterday urged the government to regulate sodium content in foods after recent tests showed that a majority of instant noodles, snacks and canned food contain more sodium than is recommended per meal.
The Consumers' Foundation said that the sodium content in 88 percent of the instant noodles, snacks and canned food it tested exceeded levels recommended by the Department of Health per meal.
One brand of instant noodle, Nissin Cup Noodle, even contained more sodium than the 2,400 milligrams recommended daily intake.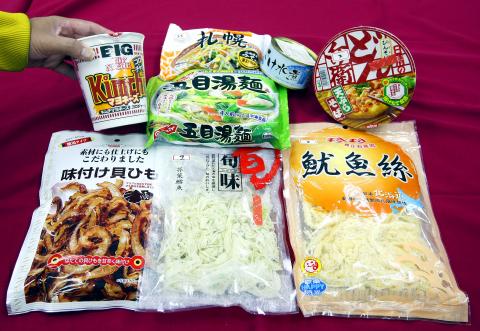 Instant noodles, shredded dried squid and other snacks are displayed by the Consumers' Foundation in Taipei yesterday. The foundation found most snacks it tested to contain excessive sodium, and called on health authorities to impose limits.
Photo: CNA
The foundation's tests of seven popular instant noodle products revealed that all exceeded the total recommended sodium intake per meal by at least 33 percent.
Two of the products by Nissin Cup Noodle contained 112.5 percent and 108.3 percent of the recommended daily sodium intake, meaning that a person who ate this cup of noodles for a meal had already consumed more than a day's recommended sodium intake.
The foundation also found that of the 17 types of snack foods tested, 12 exceeded the sodium amount recommended for one meal.
Foundation chairman Hsieh Tien-jen (謝天仁) said excessive consumption of sodium, which is usually caused by eating too much processed or artificially flavored foods, or adding too much salt or soy sauce, could increase risks of high blood pressure and stroke.
Overconsumption of sodium can also damage the liver and kidneys, he said.
Part of the reason why several processed food products tend to be heavily salted is consumers' preference for salty foods, he said.
"[Food] manufacturers should recognize that they have a responsibility to society to promote healthy eating," Hsieh said.
"If eating these types of foods increases the risks of cardiovascular disease and chronic illness, aren't these businesses not profiting in an unethical way?" he asked.
The foundation called on health authorities to establish regulations governing the maximum amount of sodium allowed in food. It also urged the government to encourage manufacturers to cut sodium content in their products by at least 30 percent, and require that a warning label be displayed on packaging for food with high sodium content.
Comments will be moderated. Keep comments relevant to the article. Remarks containing abusive and obscene language, personal attacks of any kind or promotion will be removed and the user banned. Final decision will be at the discretion of the Taipei Times.