Teachers create human rights lessons for contest
RAISING AWARENESS Organizers of the event hope that educating children about farmers' and women's struggles will protect Taiwan's democracy in the future
About 40 teachers who created human rights education curricula for a contest to promote human rights content in schools were honored at a ceremony yesterday.
"Through my curriculum, I want students to realize how farmers have always been the disadvantaged group and have always been exploited," said Liao Che-chiang (廖哲強), a teacher at Mailiao High School in Mailiao Township (麥寮), Yunlin Conty, whose model won "the most recommended curriculum" award in the contest organized by the Deng Liberty Foundation.
In his curriculum, students would be taught about the Erlin Incident of the 1920s and the ongoing campaign against a science park expansion project in Changhua County's Erlin Township (二林). They would also be taken on a trip to the locations where these events happened, as part of efforts to link the abstraction of human rights with actual, physical places.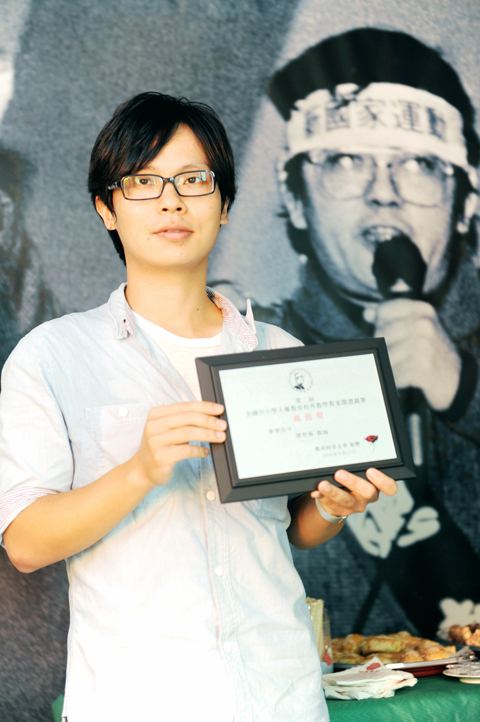 Liao Che-chiang, a teacher at Mailiao Senior High School in Yunlin County, holds up the plaque he was given along with NT$50,000 after winning first place for his work on the farmers rights movement in Taiwan in a competition organized by the Deng Liberty Foundation to promote human rights education in elementary, junior and senior high schools.
PHOTO: CHANG CHIA-MING, TAIPEI TIMES
In 1935, Erlin sugarcane farmers, who said they were being exploited by large corporate sugar mills, refused to sell their produce unless the sugar mills would negotiate prices with farmers and allow farmers to oversee the weighing process. Sugar mills turned down the request and, with help from police, attempted to harvest the sugarcane by force. The move triggered physical confrontations between farmers and police officers, and many people were wounded and hundreds of farmers were arrested.
Erlin farmers are once again protesting against the government's takeover of their land, this time to make way for the Erlin campus of the Central Taiwan Science Park.
"It's so interesting that, despite an 80 year difference, farmers from the same area are again facing exploitation, though this time in a different way," Liao said.
Meanwhile, three teachers from Ganghe Elementary School in Kaohsiung City won an award for a curriculum design that seeks to make students rethink women's status in society.
According to their curriculum, students would head for the Female Laborers Memorial Park — formerly known as the Cemetery of 25 Ladies — in Kaohsiung.
Twenty-five unmarried female workers, who died when a ferry carrying them to work sank in Kaohisung Harbor in 1973, are buried there.
According to tradition, women can only be properly worshiped after death and as members of their husbands' families. For unmarried women, they can only be sent to temples or collective cemeteries for women, but not as members of their biological families.
Believing that the Cemetery of 25 Ladies was disrespectful to women who made important contributions to their families and the nation's economic development, Kaohsiung Mayor Chen Chu (陳菊) renamed the area Female Laborers' Memorial Park in 2008.
"I think this practice is so not fair and discriminatory to women, and I think it's better to remember them as workers who died in an accident on their way to work," said Liu Yu-hao (劉育豪), a teacher at Ganghe Elementary School who initiated the curriculum design. "By bringing up the issue in class, we'd like to make students think more about women's status in society."
However, Liu said some parents might object to the curriculum, since he and his colleagues not only sought to challenge traditional practices, but were also taking students to a cemetery.
"A lot of controversial political issues occurr in Taiwan because people do not learn enough about protection of human rights at school," Lee Min-yung (李敏勇), a poet and a member on the foundation's board of directors, said at the ceremony. "To strengthen democracy in Taiwan, we must educate our children about protecting human rights and freedom, instead of making economic development the sole goal of the country."
Ronald Tsao (曹欽榮), another board director, said that when people are aware enough of human rights issues, "they will know what to do when a democratically elected government goes astray."
Comments will be moderated. Keep comments relevant to the article. Remarks containing abusive and obscene language, personal attacks of any kind or promotion will be removed and the user banned. Final decision will be at the discretion of the Taipei Times.