TV's He Yi-hang arrested on drug charges
CELEBRITIES IN TROUBLE Yuan Ju-chih, a former TV show assistant producer and the former boyfriend of model Yvonne Yao, was also indicted on drugs charges
TV entertainer He Yi-hang (賀一航) was arrested yesterday for alleged drug possession and possible distribution, prosecutors said.
The Taoyuan County Police Department's Criminal Investigation Corps confirmed He was arrested at his residence in Taipei, saying he was escorted to the Taoyuan District Prosecutors' Office for questioning.
Taoyuan Prosecutor Yeh Yi-fa (葉益發) said police had been investigating "Tsai-shen," a major brothel in northern Taiwan, and monitoring telephone conversations between the operators of the brothel and customers. During the probe, officers established that He was a regular client, the police said.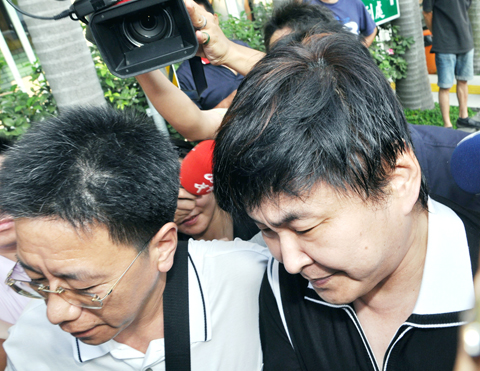 TV personality He Yi-hang, right, is escorted into the Taoyuan District Prosecutors Office yesterday after an investigation showed he might be supplying drugs to other celebrities. He said he would provide a public statement about his actions within two days.
PHOTO: CNA
Based on his conversations, it was determined that he likely had amphetamines and ketamine in his possession and may have sold the drugs to other entertainers, police said.
Taoyuan police arrested He at about 3pm, after an unsuccessful attempt in the morning.
Police said the brothel had 15 branches in northern Taiwan, with more than 100 "employees," some from Russia, Spain and South Korea.
Meanwhile, Yuan Ju-chih (苑汝琦), a former TV show assistant producer and former boyfriend of model Yvonne Yao (姚采穎), and Ricky Shu, a Taiwanese-American, were indicted yesterday on suspicion of smuggling cocaine into the country.
Taipei prosecutors said the pair was suspected of smuggling cocaine into the country on three occasions. Transportation of large quantities of class A drugs such as cocaine could lead to life imprisonment or the death penalty, prosecutors said.
Prosecutors said Yuan, 34, was suspected of cooperating with Taiwanese drug dealer Chen Jung-shun (陳榮順) to smuggle the drug.
Shu, 29, was suspected of buying cocaine from Mexicans in the US, smuggling it into the country on his person and handing it over to Yuan. Yuan is then believed to have sold the drugs to Chen, prosecutors said.
Prosecutors believe Shu brought about 1kg of cocaine into Taiwan in November and February and delivered the merchandise to Yuan.
Shu was arrested by police at Taiwan Taoyuan International Airport on April 8 after arriving on a flight. He had 985g of cocaine in his luggage.
Police later arrested Yuan in his Taipei office after linking Yuan to Shu. Yuan denied knowing Shu or having anything to do with drug smuggling.
The pair have been in detention since.
Chen and his wife were also indicted in the case yesterday.
Comments will be moderated. Keep comments relevant to the article. Remarks containing abusive and obscene language, personal attacks of any kind or promotion will be removed and the user banned. Final decision will be at the discretion of the Taipei Times.