Tsai appoints former rival
Democratic Progressive Party (DPP) Chairperson Tsai Ing-wen (蔡英文) yesterday announced her campaign team, a list that includes party veterans, DPP lawmakers and, notably, her former opponent in the party primaries, ex-premier Yu Shyi-kun (), as her campaign chairperson.
Tsai, who made a last-minute decision to enter the race for Sinbei City, appears to be sending a signal to her Chinese Nationalist Party (KMT) counterpart, former Vice-Premier Eric Chu (朱立倫), that she has finished playing catch-up.
However, speaking yesterday, she said that she would face a tough battle against the favored KMT candidate.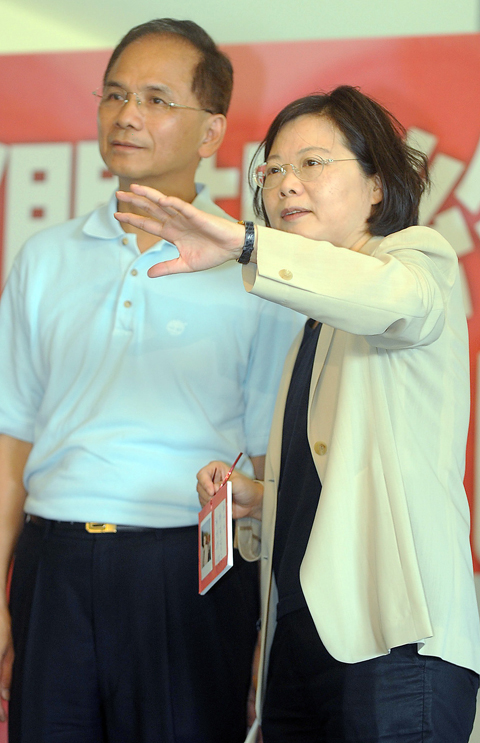 Democratic Progressive Party Chairperson and Sinbei City mayoral candidate Tsai Ing-wen, right, introduces former premier Yu Shyi-kun as her campaign chief at the campaign headquarters in Banciao City yesterday.
PHOTO: WANG YI-SUNG, TAIPEI TIMES
Opinion polls show the two running neck-and-neck in Sinbei City, the name Taipei County will be known as after it is upgraded to a special municipality in December.
"I definitely did not choose to run in the Sinbei City elections because it is an easy battle, but because this city is full of hope and challenges," Tsai said at her campaign office in Banciao (板橋) yesterday.
The announcement that Yu would be playing a prominent position in her campaign will assuage rumors that relations between the two were still sour after Tsai's surprise announcement that she would take up the DPP mantle in the battleground city.
Prior to the announcement, Yu was seen as the DPP frontrunner, an assumption that DPP officials have privately confirmed.
However, these issues were not addressed by the former premier yesterday as he stepped to the podium, asking voters to reject the KMT and support Tsai along with the four other DPP candidates. He said that Tsai's campaign would focus on governing abilities.
Liao Pen-yen (廖本煙), a former Taiwan Solidarity Union lawmaker, will serve as Tsai's deputy campaign chairperson. Wu Ping-jui (吳秉叡), a former judge and DPP legislator, will serve as chief ­coordination manager, a position he once held during former president Chen Shui-bian's (陳水扁) election campaigns.
Meanwhile, former minister without portfolio Lin Si-yao (林錫耀) has been appointed executive director of the campaign and former DPP caucus whip Chen Chin-jun (陳景峻) will be responsible for running Tsai's support clubs. DPP Legislators Yu Tian (余天) and Lin Su-fen (林淑芬) will also play prominent roles.
Tsai said the biggest feature of her campaign team would be their vast experience working in central and local governments, which she said would help create a new beginning for Sinbei City.
Comments will be moderated. Keep comments relevant to the article. Remarks containing abusive and obscene language, personal attacks of any kind or promotion will be removed and the user banned. Final decision will be at the discretion of the Taipei Times.