Academic says that ECFA gives the edge to Beijing
An industrial economics expert yesterday criticized government comments that the cross-strait Economic Cooperation Framework Agreement (ECFA) would benefit the grassroots, saying that Taiwan's "early harvest" list under the ECFA was problematic.
National Central University Institute of Industrial Economics professor Liu Ching-lung (劉錦龍) said he had found five serious problems after a closer look at the 539 items on Taiwan's "early harvest" list.
The list includes "goods that export to China in small quantity," "goods that import from China in small quantity," "Taiwanese goods that have great market share in China," "goods that have been granted low import tax by China" and "goods whose market has been dominated by Chinese exports."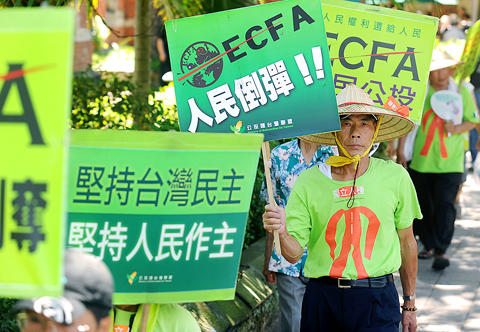 Members of several pro-localization organizations demonstrate against the Economic ­Cooperation Framework Agreement outside the legislature yesterday.
PHOTO: LIAO CHEN-HUEI, TAIPEI TIMES
While the administration of President Ma Ying-jeou (馬英九) said the list would spur Taiwanese exports, Liu said that China already dominates the market of up to 225 items on the list, with their export volume reaching more than US$100 million last year. Liu said that China's export volume of 26 items on the list had hit US$1 billion last year. In other words, Liu said, China not only manufactures those products, but also enjoys a strong competitive advantage in their export markets.
In terms of items that the Ma administration said would benefit local small and medium-sized enterprises, Liu said that China's export volumes in three bicycle-related products had reached US$1.4 billion, US$250 million and US$190 million respectively, and that China's export volumes of two kinds of automobile parts had reached US$2.5 billion and US$1.73 billion.
The export volume of cotton towels from China had hit US$920 million, while the export of other Chinese towels had reached US$990 million, Liu said, adding that China's other items, including ovens, irons, toasters and golf products, also enjoyed a competitive edge.
China has slowly dropped its policy of encouraging exports, Liu said, lifting its export rebates and reevaluating the currency exchange rate.
Under these circumstance, Taiwanese businesses will find it difficult to compete with their Chinese counterparts if Chinese products are sold to the domestic market, Liu said.
Taiwan's small and medium-sized enterprises will not benefit from the tariff breaks stipulated in the ECFA, while the Ma administration's promise to take care of them is an empty promise, he said.
Comments will be moderated. Keep comments relevant to the article. Remarks containing abusive and obscene language, personal attacks of any kind or promotion will be removed and the user banned. Final decision will be at the discretion of the Taipei Times.