Yahoo blocks 'Taiwan' in forums
INAPPROPRIATE Yahoo's PR director said the 'tai' in 'Taiwan' was censored because of a global policy to block 'vulgar' words on its World Cup forums
Yahoo's move to block "inappropriate" words on its online World Cup 2010 forum has sparked unexpected controversy in Taiwan, as "Taiwan" was one of the words on the list.
Internet users found on Wednesday night that when they typed the word "Taiwan" in English on Yahoo Taiwan's World Cup 2010 forum, it would appear only as "---wan."
When news about Yahoo's move spread, thousands of messages poured into the forum to test if the word "Taiwan" really wouldn't show up.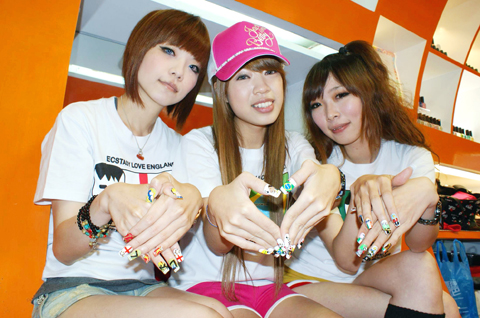 Soccer fans in Tainan County model nail art designs showing which teams they support early last month.
PHOTO: WU CHUN-FONG, TAIPEI TIMES
Censorship of the word "Taiwan" has upset many Internet users, who suspected that it was done out of political motivation.
"Under the Olympic model, the Republic of China flag is banned, so now even the word 'Taiwan' is banned?" Yahoo Taiwan member "Time Walker" said in a message.
"This is too much. Does Yahoo Taiwan want everyone in Taiwan to boycott it?" another Yahoo Taiwan member, Yeh Chien-wen (葉倩文), said in a message.
Other Yahoo Taiwan members tried to show the word "Taiwan" by leaving spaces between letters or typing the letters vertically.
Members of the social networking Web site Plurk.com were also not happy about the censorship.
"The 'Tai' part of 'Taiwan' has become something to be filtered — what the heck is Yahoo doing?" Plurker cool_moon said in a Plurk message posted early yesterday morning.
Several other Plurkers responded to her post with the "angry" emoticon.
Responding to Internet users' complaints, Yahoo Taiwan public relations director Ruu Wu (吳苑如) said that "Tai" had been filtered out because of a global policy banning vulgar words on its World Cup forums worldwide.
"We block words like 'fuck' or 'shit,' and the word 'tai' carries the same meaning as 'shit' in Indonesian, that's why it's blocked," Wu told the Taipei Times via telephone. "So it's not just 'Taiwan,' the 'tai' part of any word would be filtered."
"We are contacting the Yahoo headquarters in the US to solve the problem right now," she said.
The Taipei Times verified with Indonesian nationals that "tai" is a vulgar word in the language.
The ban on "tai" on Yahoo Taiwan was lifted before 1pm yesterday, only minutes after the telephone interview.
This was not the first time that the sensitive issue came up on Yahoo Taiwan.
In November 2008, Internet users found that they could not register any account name with the word "Taiwan."
Yahoo Taiwan quickly fixed the problem within a day after the news was exposed.
Comments will be moderated. Keep comments relevant to the article. Remarks containing abusive and obscene language, personal attacks of any kind or promotion will be removed and the user banned. Final decision will be at the discretion of the Taipei Times.