Bike enthusiasts complete epic journey across US
Taiwanese biking enthusiasts Lai Chang-hsin (賴長信) and Chen Chu-cheng (陳朱城) just completed a three month, 7,000km epic coast-to-coast ride across the US. Throughout their adventure, they received a heroes' welcome and were interviewed on NBC. At one point, some police officers even insisted they have a group photo taken.
The two set off on the journey on March 16, each carrying 50kg of luggage, from San Francisco on the West Coast, bound for New York on the east, and passing through a total of 14 states.
The trip was four months in the planning, but each day still brought all kinds of distractions and complications, from the weather and buying provisions to working out routes — asking directions alone took a surprising amount of time.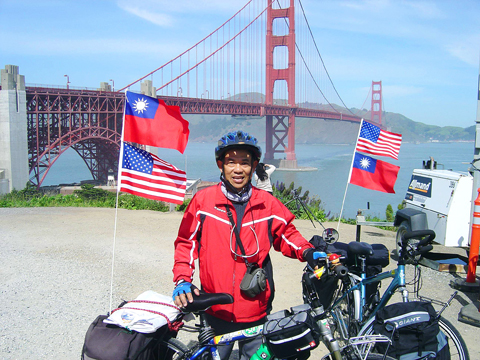 Pingtung County resident Lai Chang-hsin stands by his bicycle decked out in the national flag near Golden Gate Bridge in San Francisco during his 7,000km-plus bicycle trip across the US. Lai returned to Taiwan last week.
PHOTO COURTESY OF LAI CHANG-HSIN
Lai said getting from state to state was no easy matter because of the complex road system. Armed with a map, they still managed to get lost countless times. At one point, a wrong turn had them riding along a freeway in Texas and they had gone 50km before the police flagged them down. Once the cops knew they were from Taiwan, however, they gave them the thumbs up and escorted them down off the freeway.
Lai said they were often worried that they wouldn't be able to find a place to set up camp at the end of the day, but his daughter was on hand back in Taiwan sending them directions. She would send them info on where to set up their tent and where they could buy their provisions.
Her duties also included updating their Facebook site with their progress, avidly followed by Taiwanese students in the US. A girl named Wendy at the University of Texas at Austin and her partner tracked Chen and Lai down when they were in town and took them out for dinner. Another university student, Lin Shu-han (林書漢), also gave them a lot of help.
Lai said that both students and Taiwanese expatriates living in the US were very friendly when they noticed the Republic of China (ROC) flag flying on the bikes. They were told that the US flag is everywhere you look in the US, so it was a pleasant surprise to see the ROC national flag for a change.
The smile, Lai said, is a universal language and they were lucky enough to come across a lot of very friendly people over the course of their 7,000km ride, Taiwanese and Americans alike. It wasn't long before he was fresh out of the 200 name cards he had taken along with him. New friends from foreign climes, they are all welcome to pop by his house if they are ever in Taiwan, he said.
News of their journey spread quickly, thanks to the Internet, and NBC were waiting for the pair when they arrived in New Orleans, wanting to give them an interview. Another US broadcaster was there to witness their triumphant arrival in New York, and they had a photo op with some New York police officers.
"If I'm going to take anything with me from this," Lai said, "it's going to be my apparent transformation from a madman to a hero!"
Chen, a fruit wholesaler, does business to the tune of NT$10,000 a day, and so he gave up more than NT$1 million (US$31,481) to embark on this US trip. In the past, he had only been able to see sites like the Golden Gate Bridge in San Francisco or the Statue of Liberty on TV, but being able to see it in person, and having had the chance to meet so many new people, he said, had made it all worthwhile, and was something he would never forget.
Chen and Lai returned to Taiwan on Monday last week, and their biking friends in Pingtung held a special welcome party for them, presenting them with a special inscribed plaque in recognition of their achievement.
Comments will be moderated. Keep comments relevant to the article. Remarks containing abusive and obscene language, personal attacks of any kind or promotion will be removed and the user banned. Final decision will be at the discretion of the Taipei Times.