Scenic line to reopen tomorrow
The scenic Old Mountain Line (舊山線) is scheduled to resume operations tomorrow, with the pilot run featuring a CK124-model steam train.
The Taiwan Railway Administration (TRA) suspended services on the line after the opening of New Mountain Line in 1998.
The 15.9km-long old railway line passes through several historic sites, including Shengsing Train Station (勝興車站) and the Broken Longteng Bridge (龍騰斷橋).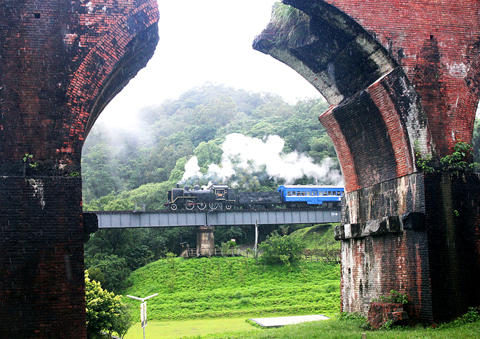 A vintage locomotive passes the Broken Longteng Bridge during a test run yesterday. The Taiwan Railway Administration's Old Mountain Line in Miaoli has been out of service for 12 years, but is scheduled to reopen tomorrow.
PHOTO: CNA
Shengsing Train Station was built in the Japanese colonial era, and the entire framework of the building was made of wood. It is also the highest station in the TRA system at 402m above sea level.
Longteng Bridge was damaged by an earthquake that shook the nation in 1935. The bridge was never repaired and is one of the most popular scenic spots in Miaoli.
The nation's largest railway spent about NT$200 million (US$6.25 million) repairing the railway tracks and other facilities on the Old Mountain Line so that it was fit for use.
TRA director-general Frank Fan (范植谷) said that maintaining the Old Mountain Line had caused it to suffer financial losses up to NT$100 million.
"We want to have a trial operation [of the Old Mountain Line] for three months to test the reaction from the market," Fan said.
"Then we will be able to evaluate the results and amend plans to outsource the operation to a private contractor," he said.
The TRA is also proposing to outsource the operation under the renovate-operate-transfer (ROT) model. It estimates that the Old Mountain Line, once in service, could draw 750,000 tourists a year, which could generate a total revenue of NT$$300 million per year.
Aside from the Old Mountain Line, the TRA also has three branch lines, including the Pingxi Line (平溪線), Neiwan Line (內灣線) and the Jiji Line (集集線).
Comments will be moderated. Keep comments relevant to the article. Remarks containing abusive and obscene language, personal attacks of any kind or promotion will be removed and the user banned. Final decision will be at the discretion of the Taipei Times.