FEATURE: Green Island visit revives memories
There was forced labor, torture, beating, hostility between the "Reds" and the "Whites" and betrayal — former political prisoners recalled their life on Green Island when they recently revisited and expressed their hope that no one else would ever be jailed for their political beliefs in this country again.
From 1949 when Martial Law was declared in Taiwan until 1987 when it was lifted, thousands of people were imprisoned or executed for holding political views that differed from those of the Chinese Nationalist Party (KMT) regime. Some of them did take part in anti-government activities, but most were merely complaining about social or political situations in the country.
Green Island, a small island with of only 16km², 33km offshore of Taitung City, seemed to the then-KMT authoritarian regime the perfect place to jail dissidents. Hence, the small island was home to two political prisoner camps — the New Life Correction Center (新生訓導處) and the Oasis Village (綠洲山莊).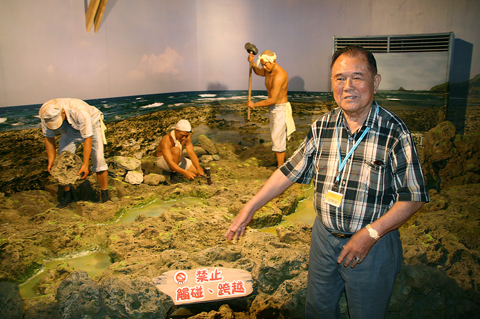 Former political prisoner Chen Peng-yun recounts the construction work he had to do as an inmate as he stands in front of a recreated scene in the reconstructed New Life Correction Center on Green Island on May 15.
PHOTO: LOA IOK-SIN, TAIPEI TIMES
The New Life Correction Center was completed in the 1950s and was in use until the 1960s when all political prisoners were transferred to Taiwan proper.
After a failed uprising planned by political prisoners at Taiyuan Prison (泰源監獄) in Taitung County's Donghe Township (東河) in 1970, the government decided to move the "most dangerous" political prisoners back to Green Island and lock them up in the then-newly completed Oasis Village.
Dozens of former political prisoners — most of them in their 80s — returned to Green Island on May 15 to attend the opening of a reconstructed New Life Correction Center and an exhibition of life on the island back in the Martial Law era.
The New Life Correction Center, mostly a wooden structure, was later flattened.
During the visit, the former political prisoners recalled the times they lived through on the small island in the West Pacific.
"I've worked like this, this looks so real," former political prisoner Cheng Peng-yun (陳鵬雲) said, pointing at wax figures showing how political prisoners had to dig rocks from the coast and transport them back to the New Life Correction Center.
The prisoners had to build houses and walls around the prison camp with the rocks they collected from the coast.
"It was not easy, because the rocks were heavy and the weather on Green Island was always humid and hot," he said.
Work injuries were common, as Chen and his "classmates" — as the prisoners called each other — had to walk on rocks when they moved around since there were no paved roads on the island at the time.
Chen was one of the first dissidents to be sent to Green Island in 1951.
He was arrested in September 1950 for participating in the Taipei City Work Committee, a branch of the Chinese Communist Party's (CCP) underground organization the Taiwan Provincial Work Committee (台灣省工作委員會), created by Changhua-born underground CCP member Tsai Hsiao-chien (蔡孝乾) in 1945.
Tsai was arrested by the KMT regime in 1950. He surrendered and submitted lists of all underground CCP organizations in Taiwan, which led to a series of subsequent arrests of Taiwanese communists that lasted until 1954.
"Tsai is a traitor, he only cared about himself," Chen said. "He was able to enjoy his life because we suffered."
After giving up his comrades, Tsai was given the title of major general and worked for the National Security Bureau until his death in 1982.
After his arrest, Chen was tortured, but said he did not give up any of his comrades. He was jailed for 15 years on Green Island and other prisons on Taiwan proper.
"I was young and full of a passion to erase Taiwan at the time," Chen said. "At meetings [of the Taipei City Work Committee], we mostly read books, held discussions, but hadn't started any action."
He said he was also a member of the Taiwanese Communist Party during the Japanese colonial period.
Construction was not the only labor that political prisoners faced.
"We worked on farms, raised chickens, ducks, pigs, cows and goats," another former political prisoner Huang Kuang-hai (黃廣海) said. "At the time, there were no roads on Green Island, so we also built the roads."
Huang was arrested in 1954 and sentenced to life in prison because he was caught criticizing then-dictator Chiang Kai-shek (蔣介石) in letters to friends in Hong Kong.
"The New Life Correction Center was more like a concentration camp than a prison — we spent most of our days working instead of being in a prison cell," he said. "We returned to the dormitory only after sunset. An officer would come to the door to call the roll, tell us who was assigned to do what the next day and then lock the door at about 9pm."
After the roll call, prisoners would have one to two hours in the room to do whatever they wanted to do, Huang said.
Many of the prisoners, like Kue Chin-sun (郭振純), read books during their "free" time, before going to bed.
Kue was arrested in 1953 because he was reported to have "repeatedly participated in illegal assemblies" and he was sentenced to life in prison.
In fact, all he did was campaign for anti-KMT Tainan mayoral candidate Yeh Ting-kuei (葉廷珪). He was released when an amnesty was declared after Chiang's death in 1975.
"Spending decades in prison is something that would drive anyone crazy if they weren't able to take a break from reality by reading books," Kue said.
Kue, who knows several languages, also translated several novels from English and Spanish into Chinese.
Former political prisoner Chen Meng-ho (陳孟和), on the other hand, was a talented artist.
During his 15 years at the New Life Correction Center, he not only learned to play guitar and violin, he even managed to make guitars and violins using wooden parts of old boats and electrical cables.
Chen Meng-ho was also a photographer — and many of Green Island's residents still remember his small photo studio inside the prison camp.
"I remember that when I was a kid, we were normally not allowed to go into the prison camp," Green Island Township Office secretary Tien Huei-hung (田輝鴻) said. "On some holidays, such as the Lunar New Year holidays, however, we residents could go into the New Life Correction Center to have our family photos taken by Chen Meng-ho."
It was because of the photos that Chen Meng-ho took and the sketches and paintings he drew of the New Life Correction Center that the Council for Cultural Affairs was able to reconstruct the prison and recreate scenes of former political prisoners' lives there.
Although Huang, a left-leaning supporter of unification, and Kue, an advocate for independence, became good friends when they were in prison, pro-independence dissidents and left-wing political prisoners usually didn't get along.
"The 'Reds' had their own small groups. They would treat you like a brother if you also believed in communism, otherwise they would be hostile toward you," Kue said. "The 'Reds' was the nickname for communists in prison, while pro-independence political prisoners were referred to as the 'Whites.'"
From the point of view of the reds, however, it's another story.
"During the White Terror era, the KMT was more afraid of communists than pro-independence activists. If you look at what happened to dissidents at the time, many communists were executed, but not many pro-independence activists were executed," said Wu Sheng-jun (吳聲潤), a member of an underground CCP organization who was also jailed on Green Island.
"The 'Whites' tried to avoid having any contact with us because they didn't want to be considered a 'Red' by the KMT," he said.
On the side of a hill not far from the New Life Correction Center was a cemetery nicknamed the "13th Squadron."
"The 13th Squadron was a name that former political prisoners gave to the place where many of their fellow prisoners who did not make it out of the prison camp were buried," said Tsao Chin-jung (曹欽榮), an independent researcher of White Terror era history. "Because the political prisoners were divided into 12 squadrons, they decided to call their deceased 'classmates' the '13th Squadron.'"
Tsao said there were also guards who died on Green Island buried there.
"Most of the people buried on Green Island were from the mainland, because they came to Taiwan alone and there were no families to take their bodies," he said.
Having been jailed from the ages 21 to 31 (1950 to 1960) and then from 47 to 58 (1976 to 1987) for left-wing activities, Chen Ming-chung (陳明忠) said he had no regrets.
"I could say that my life was ruined because I spent most of my youth and my prime in prison, but it doesn't matter anymore," Chen said after revisiting the cell in which he was imprisoned at the Oasis Village. "What matters now is that all 23 million Taiwanese — especially the younger generation — will never be jailed again for holding political views different from those of the government."
"Governments are supposed to serve the people — what do we need a government for if it's only there to arrest innocent people?" he said.
Comments will be moderated. Keep comments relevant to the article. Remarks containing abusive and obscene language, personal attacks of any kind or promotion will be removed and the user banned. Final decision will be at the discretion of the Taipei Times.