FEATURE: Musician combines East and West
A GOOD RING Since he created his music workshop 19 years ago, Huang Chen-ming has sought to incorporate various instruments and practices into musical creations
In the musical world of Huang Chen-ming (黃正銘), there are no limitations or boundaries. He sees no problem combining traditional Taiwanese and Chinese music with elements of Western rock, African music or Scottish folk songs.
Wang, the founder of the Chai Found Music Workshop, has set himself the goal of broadening the scope of traditional music and creating more opportunities for Taiwanese musicians to play all over the world.
Since his return from the Winter Olympic Games in Vancouver, Canada, earlier this year and a tour of several US cities, Huang thinks he is moving closer to this goal.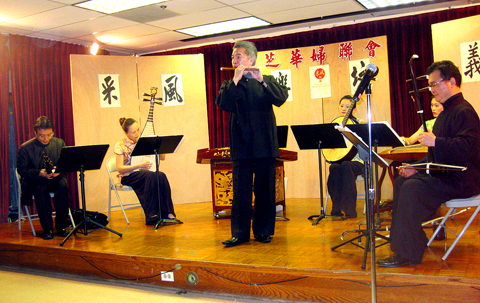 The Taiwanese music ensemble Chai Found Music Workshop, which was invited to give a concert and hold a workshop at the Vancouver 2010 Cultural Olympiad last month, performs at an event to raise money for abused women at the invitation of the Chinese Women's League in Chicago on March 16.
PHOTO: CNA
His life mission is to promote traditional music, he said.
"I want to create limitless possibilities for traditional music and I hope more composers worldwide will join us," he said.
Since he established the music workshop 19 years ago, Huang has brought together a group of musicians that include pipa player Lin Hui-kuan (林慧寬) and di player Wu Chung-hsien (吳宗憲).
As the group's artistic director and composer, Huang uses traditional Chinese instruments as a central thematic element and has created a unique musical space that not only facilitates the performance of Sizhu music — Chinese chamber music — but also provides other composers with an inspirational platform for experimentation.
The group preserves traditional elements by exploiting the distinctive sounds of Eastern instruments while also introducing innovation into the genre of folk and world music. Huang says the aim is to create a groundbreaking expression of the diversity, vitality and richness of Taiwanese contemporary music.
He says that traditional music could encompass all kinds of experimentation.
One of his latest concepts is that music should not only be heard, but also seen. With this in mind, he plans to incorporate tai chi into his group's musical performances.
"All our musicians will begin to learn tai chi in May so that they can express that art form through music and with their bodies," he said.
As part of his efforts to expand the expression of traditional music, Huang last year held a composers' competition based on the theme of the ancient Chinese "five movements" philosophy, which describes the interactions and relationships among the five ­elements — wood, ­water, earth, fire and metal.
The competition attracted many composers from the West and the East, eight of whom were chosen to present their work at a concert.
Huang is holding a similar competition this year, this time with the theme of yin and yang, which describes the interconnectedness and interdependency of seemingly opposite polar forces in the natural world.
"In this competition, we could see quite different and very creative works from Western and Eastern composers, which could also open another window for the enrichment of traditional music," Huang said.
The winning compositions will be presented at a concert in ­October, he said.
Over the years, Huang's group has been invited to several international festivals, including the Barcelona Arts Festival in Spain in 1992, the Costa Rica Culture Festival in 1998, the Hoergaenge Contemporary Music Festival in Austria in 2000, the Cologne Music Festival in Germany 2001, the Huddersfield Contemporary Music Festival in England in 2004 and the Festival Dimension in Seoul last year.
"This year, we will have more opportunities to go abroad, to connect with other countries — including France, where we will perform with musicians in Paris at the end of the year," Huang said. "But this is also the year for training for a great future."
Comments will be moderated. Keep comments relevant to the article. Remarks containing abusive and obscene language, personal attacks of any kind or promotion will be removed and the user banned. Final decision will be at the discretion of the Taipei Times.