White-collar workers rally for complete ECFA debate
EXTENDED TALKS One of the protest leaders called for a three-part debate, giving special focus on key issues that stand to be affected after a cross-strait trade pact is signed
The debate that will be held this weekend between President Ma Ying-jeou (馬英九) and Democratic Progressive Party Chairperson Tsai Ing-wen (蔡英文) on signing an economic cooperation framework agreement (ECFA) with China should be more than just about tariffs and free trade, the Taipei White-Collar Anti-ECFA Alliance said yesterday.
Dozens of members of the alliance yesterday called a press conference at the plaza in front of Taipei Main Station to express their views and gather signatures for an ECFA referendum. They also held a short skit in which they slapped two toilets with fly swatters to symbolize the urgent need for the Ma administration to awaken from its ECFA dreams.
"So far, discussion surrounding the signing of an ECFA with China has mostly been about weighing the costs and benefits for various industries and professions," Alliance president and Taiwan ­Solidarity Union director Chou Ni-an (周倪安) said.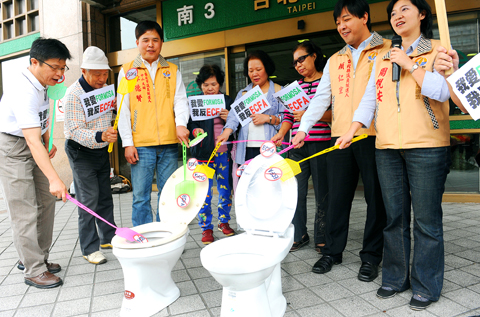 Members of the Taipei White-Collar Anti-ECFA Alliance protest the government's talks on an economic cooperation framework agreement (ECFA) with China on a Taipei sidewalk yesterday.
PHOTO: CHANG CHIA-MING
The Ma-Tsai debate would be "handicapped" if bigger and more important issues are not discussed, such as the social, political and cultural aspects of signing an ECFA, she said.
Chou was referring to the debate between Ma and Tsai on the signing of the free-trade agreement, which will be televised and is set to take place on Sunday afternoon.
The activists said that any agreement signed by the two countries would have a political impact on the cross-strait relationship and that if the government goes ahead with signing the agreement against the wishes of its people, it would lead to political clashes.
"Political, cultural and social issues are indispensable to the discussion of economic and trade issues," Alliance director Chen Teh-hsien (陳德賢) said.
"If we only talk about economic costs and benefits without a ­discussion about the political, cultural and social aspects of negotiation between the two countries, we will cause ourselves greater harm than good," he said.
Chen also proposed that the debate between Ma and Tsai be extended and divided into three parts to examine the pros and cons of each aspect: economics, politics and society.
"Everyone will fall asleep if they only talk about economic issues," he said.
The Ma administration, hoping to sign the proposed cross-strait trade pact in June, has said that if Taiwan does not sign such an agreement with China, it risks being marginalized because China continues to sign free-trade agreements with its neighboring countries.
Critics, however, have warned that the planned agreement would jeopardize Taiwan's sovereignty, making it too economically dependent on China and leading to an influx of Chinese capital and goods.
Comments will be moderated. Keep comments relevant to the article. Remarks containing abusive and obscene language, personal attacks of any kind or promotion will be removed and the user banned. Final decision will be at the discretion of the Taipei Times.