MND confers medals on US troops in rescue efforts
The Ministry of National Defense (MND) has presented about 600 medals to members of the US Armed Forces, in recognition of the help and support given to Taiwan in the aftermath of Typhoon Morakot, an MND official said yesterday.
The medals — bearing the words "In commemoration of the Typhoon Morakot rescue operations" — were presented to US troops on Monday by Minister of National Defense Kao Hua-chu (高華柱) at a ceremony that was also attended by William Stanton, director of the American Institute in Taiwan (AIT), the MND said.
Chinese Nationalist Party (KMT) Legislator Lin Yu-fang (林郁方), who suggested awarding the medals, said that about 600 US troops participated in the search and rescue operations after Typhoon Morakot.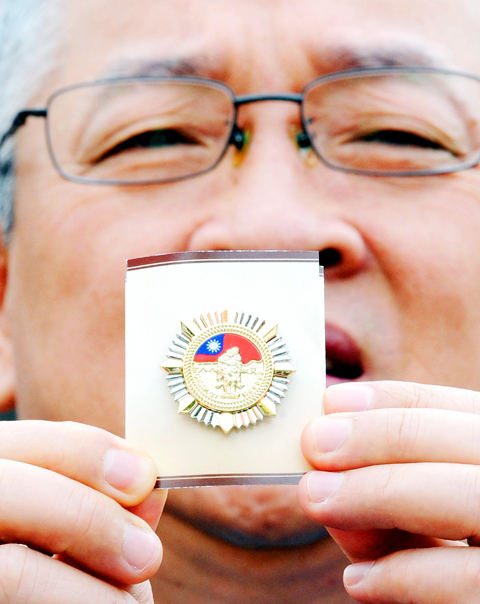 Chinese Nationalist Party (KMT) Legislator Lin Yu-fang holds up a medal that the ­government is giving to people who contributed to rescue operations following ­Typhoon Morakot in August.
PHOTO: CNA
They included 500 Navy personnel from the USS Denver, an amphibious transport dock that was stationed off the coast of Taiwan during the humanitarian mission.
The medals were also conferred on members of the US Pacific Command and the US Seventh Fleet, military personnel stationed in Japan, representatives of AIT, and staff of the US Defense Department.
Lin, who was also at the ­ceremony, said Kao extended thanks on behalf of the Taiwan people to the US for its "brotherly" assistance.
The medals, 3.5cm in diameter, feature the national flag and an image of a rescuer carrying a disaster victim.
A total of 85,000 medals were produced at a cost of NT$1.67 million, an MND spokesperson said, adding that some will be conferred on local military personnel who participated in the search and rescue operations.
It was the first time in the 30 years since diplomatic relations between the US and Taiwan were severed that Taiwan has awarded medals to US troops.
AIT reportedly asked that the award ceremony be kept low-key.
Comments will be moderated. Keep comments relevant to the article. Remarks containing abusive and obscene language, personal attacks of any kind or promotion will be removed and the user banned. Final decision will be at the discretion of the Taipei Times.