CLC apologizes over frisky photos
The military's Combined Logistics Command (CLC) yesterday apologized after revealing pictures of a female soldier appeared on the Internet
"I apologize to the public on behalf of the CLC," Rear Admiral Liou Chih-chien (劉志堅), deputy spokesman for the CLC, said.
The apology came after pictures of Chen Hsueh-wei (陳學葳), a 22-year-old Army sergeant at the command's Taichung base, appeared on local TV and in newspaper reports.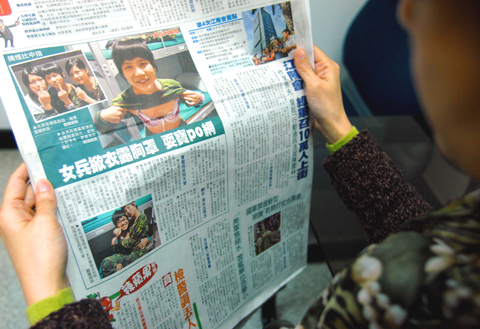 A woman reads a newspaper in Taipei yesterday carrying an undated photo of an army sergeant lifting her uniform to show her bra apparently while at her barracks. The military apologized over the photos.
PHOTO: PATRICK LIN, AFP
The pictures showed Chen ­lifting her uniform to show her bra while at the base, while another showed Chen and two female colleagues posing while giving "the bird," as well as two other female soldiers preparing to French kiss.
The photos were allegedly taken from Chen's blog and posted on other Web sites.
She also allegedly took pictures of military facilities and posted them on her blog in violation of military regulations.
"She violated certain military codes and rules and will be punished accordingly," Liou said.
Liou, a former Ministry of National Defense spokesman, said that military personnel began to question Chen yesterday. They said Chen admitted taking the pictures, but said she did so just for fun and meant no harm to the military or any of her colleagues.
"She regrets what she did," Liou said.
The case could lead to Chen's dismissal as she has violated military regulations, the CLC said.
Liou said the pictures were taken inside the female sergeants' living quarters at a Taoyuan base, a training center for CLC personnel. Chen reported to the base on Dec. 10, 2007, and finished her training courses on March 7 last year. The pictures were taken before she left the base.
Chinese Nationalist Party Legislator Lin Yu-fang (林郁方) said that the sergeant had humiliated the military and the country.
"I really have no idea why the girl would do something like this, especially as a soldier," Lin said.
This latest incident comes just five months after 17 servicemen were punished in July over a video involving two male sergeants appearing to engage in sexual acts while on duty and other soldiers looked on, an incident that sparked public outrage.
ADDITIONAL REPORTING BY AFP
Comments will be moderated. Keep comments relevant to the article. Remarks containing abusive and obscene language, personal attacks of any kind or promotion will be removed and the user banned. Final decision will be at the discretion of the Taipei Times.