FEATURE: Medical transportation set for takeoff
As an increasing number of Taiwanese live and work abroad, there is a growing need for doctors and nurses willing to devote themselves to international medical transportation, an industry insider said recently.
Tungs' Taichung MetroHarbor Hospital Chief Surgeon Lu Li-hua (盧立華), who has more than 12 years experience in the field, said that demand for such services began to increase about 10 years ago — mostly for China, where many Taiwanese work, study or live.
"The severe injuries suffered by model Lin Chi-ling [林志玲] when she fell from a horse in China four years ago drew attention to the importance of international medical transportation," Lu said.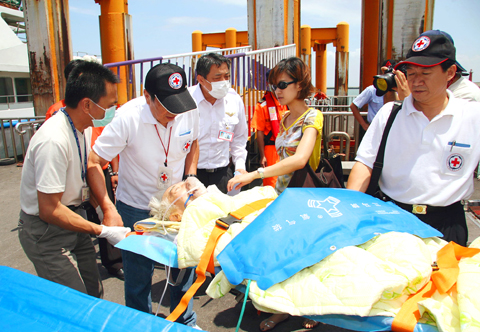 Eighty-year-old Pai Yun-sheng returns home to Kinmen on June 18 after suffering a brain hemorrhage in Suzhou, China. Pai returned to Kinmen via Xiamen.
PHOTO: CNA
The most common difficulties facing a patient's family usually come from airlines, which do not want to take responsibility for risks during the transportation of a sick person, even though transporters stand to make a substantial profit from such business, he said.
"I am often asked by airline officials: 'Is this patient going to be OK during flight?' or 'Do you have enough equipment for the patient during the flight?'" Lu said.
"But the doctor escorting the patient is the person who needs to worry," he said.
Lu said that about 80 percent of his cases involved escorting a patient back to Taiwan from China. Most of these patients take regular flights, while only a few — those that require more medical equipment — rent a small plane. The reason they or their families do so is to enjoy excellent medical services at a lower price, he said.
Lu said that when a university professor had a stroke while attending a conference in Maui, Hawaii, last year, his family members decided to escort him back to Taiwan for further medical treatment. They bought tickets for a regular flight from Maui to Honolulu and rerouted to Taipei, which cost US$10,800 altogether.
"Prior to the flight, the family received estimates from three insurance companies. The cheapest quote was NT$5 million [US$151,000]," Lu said.
In another case, the mother of a top official at China Airlines was brought back to Taiwan to receive medical treatment in April. The 78-year-old was diagnosed with heart and lung failure and was dying at the Torrance Memorial Medical Center in California. Prior to her return to Taiwan, her family spent more than NT$20 million (US$610,000) in medical expenses.
"Her flight back to Taiwan cost the family about NT$600,000 — and that's after discounts from China Airlines, because her son worked there," Lu said.
"Doctors in the US had given up on her. She is now alive and kicking and can walk 50m without crutches," he said.
The senior surgeon, who also works at the hospital's emergency room, said that international medical transportation was a developing sector, but few physicians and nurses are interested in working in that field because of the extremely unsteady schedules and heavy workload.
"Sometimes, we go a month without a single case and at other times we have to work around the clock. We are always on standby, always on the edge," Lu said.
Five doctors, including Lu, and six nurses at Lu's hospital provide international medical transportation services. While he encourages his fellow physicians and nurses to join the business, Lu said it is substantially different from working at a hospital.
"Our paychecks are one motivation to continue helping people. In this business, you also have the chance to visit many countries … but you also need to remain alert 24 hours a day, seven days a week, because you never know when you'll receive a call. There is no official 'after hours' for us," Lu said.
Tsai Shing-han (蔡行瀚), vice superintendent at Shuang Ho Hospital and a senior adviser to International SOS Taiwan, said a successful international medical transportation service involves many partners.
"Many things must fall into place for a mission like this to be successful: a good medical team, helpful airlines, safe aircraft, sufficient equipment and assistance from the government," Tsai said. "While the business is developing, it is a good opportunity for doctors or nurses to participate in these services."
Sabrina Yang (楊詩縈), marketing manager of Interpartner Assistance Taiwan, said that a growing number of local insurance companies were competing with each other over international medical transportation services.
"This is somehow a good thing for customers, as they will have more choices, while the premiums will become lower because of the competition," she said.
Comments will be moderated. Keep comments relevant to the article. Remarks containing abusive and obscene language, personal attacks of any kind or promotion will be removed and the user banned. Final decision will be at the discretion of the Taipei Times.