MORAKOT: THE AFTERMATH: Diplomatic allies hold fundraiser in Taipei
GOODWILL During a two-day charity sale, representatives and students from some of Taiwan's allied nations sold various items and donated time to help out
Under a scorching sun and a sudden downpour, ambassadors from Taiwan's diplomatic allies in Taipei yesterday pulled out all stops to sell items from their countries to raise funds for the victims of Typhoon Marokot.
The two-day charity sale, sponsored by the International Cooperation and Development Fund, drew hundreds of buyers in Taipei.
Standing behind a table filled with handmade clay vases and leather goods from Nicaragua, Ambassador William Tapia said the sale was a display of gratitude and solidarity from the people of his country.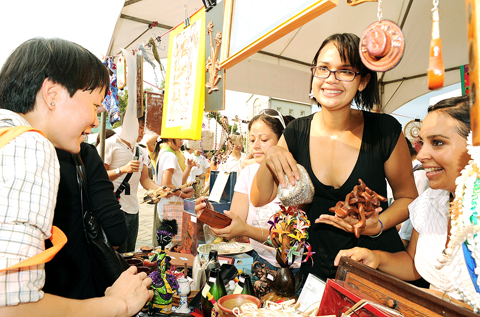 Foreign students sell items to raise money for disaster relief at a fundraising event organized by the Ministry of Foreign Affairs' International Cooperation and Development Foundation at Huashan Culture Park in Taipei yesterday.
PHOTO: CHIEN JUNG-FONG, TAIPEI TIMES
"The people of Nicaragua have received much help from Taiwan during times of need. Taiwan was often the first country to come to Nicaragua's aid when we needed relief. Now that a disaster has struck Taiwan, we are here to help," he said.
"Even though our hearts are big, our wallets are small. But we still want to do something to show our solidarity," he said.
Burkina Faso also set up a booth selling hand-made African tie-dye clothes. Paraguay, Honduras, the Dominican Republic, Haiti, Belize, the Marshall Islands and Nauru also joined in the effort by donating trinkets from their countries.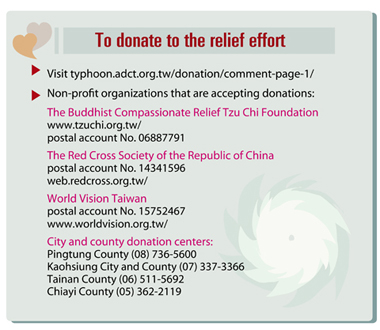 Bakary Singhateh, a Gambian student at National Taiwan Normal University, said he was deeply touched by the images of the typhoon he saw on TV.
To help with the relief work, he and other Gambian friends donated memorabilia they brought from home to the charity sale, he said.
Jasmine Huggins, charge d'affaires from Saint Kitts and Nevis said people from her country felt compelled to help, adding that if possible, she would be happy to go to the disaster zone to help with cleanup efforts.
"This is a demonstration that we are very willing to cooperate. No matter what amount, we are with Taiwan. We are expressing our solidarity with your country and your people," El Salvadoran Ambassador Francisco Santana.
Minister of Foreign Affairs Francisco Ou (歐鴻鍊) and deputy foreign minister Javier Hou (侯清山) were scheduled to appear at the event, but both did not show up.
Comments will be moderated. Keep comments relevant to the article. Remarks containing abusive and obscene language, personal attacks of any kind or promotion will be removed and the user banned. Final decision will be at the discretion of the Taipei Times.