MORAKOT: THE AFTERMATH: School to open as scheduled at month's end
HARD KNOCKS The Ministry of Education said the typhoon damaged 1,273 schools, with losses estimated at NT$1.8 billion. It also called for 10,000 college volunteers
Despite the damage inflicted by Typhoon Morakot on numerous schools in central and southern Taiwan, the fall semester will begin as scheduled at the end of this month, the Ministry of Education said yesterday.
Yang Chang-yu (楊昌裕), director of the ministry's Department of Elementary Education, told reporters that the schedule applies to schools nationwide except for those that sustained large-scale damage from the typhoon.
STATISTICS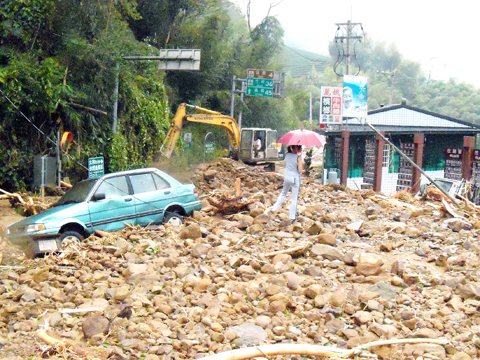 A car remains trapped on the road between Ruili and Taihe in Meishan Township, Chiayi County, yesterday.
PHOTO: CNA
The ministry's latest statistics showed that 1,273 schools were affected by floods and mudslides, causing NT$1.8 billion (US$54.7 million) in losses.
These included more than 1,000 elementary and junior high schools, 125 senior and vocational schools and 35 colleges and universities, Yang said.
Schools in Kaohsiung County suffered the most, with estimated losses of NT$520 million, Yang said.
Five primary schools — Chiayi County's Shanmei Primary School and Taihe Elementary School, Kaohsiung County's Xiaolin Elementary School and Minzu Elementary School and Nantou's Lunghua Elementary School — were wiped out by landslides, and it would be impossible to complete reconstruction at the original sites before the new semester begins, Yang said.
RELOCATION
The ministry would review plans to rebuild or relocate the schools, he said.
The ministry also called for 10,000 college volunteers to help the schools with reconstruction.
"We hope universities would mobilize their students to do volunteer work at [disaster-hit] schools," Vice Minister of Education Lu Mu-lin (呂木琳) said. "If every university sends about 100 students, there will be 10,000 volunteers in total," Lu said.
Numerous universities and colleges have launched projects to ensure that students affected by the catastrophe would be able to continue their schooling.
Comments will be moderated. Keep comments relevant to the article. Remarks containing abusive and obscene language, personal attacks of any kind or promotion will be removed and the user banned. Final decision will be at the discretion of the Taipei Times.