INTERVIEW: Zhao Ziyang's tapes tell his side of the story
After a promising political career that saw him climb the ladder of power, Chinese Communist Party general secretary Zhao Ziyang was ousted in May 1989 for sympathizing with the student demonstrators in Tiananmen Square. Placed under house arrest, his name became taboo in China. Four years after his death, a book compiled from 30 hours of recordings he secretly taped during the final years of his life was published. Bao Pu, son of Zhao's longtime aide Bao Tong and one of the main people behind 'Prisoner of the State: The Secret Journal of Premier Zhao Ziyang,' sat down with 'Taipei Times' staff reporter Huang Tai-lin in Taipei on Friday to talk about the book and the Tiananmen Square Massacre
Taipei Times: How did you become aware of the existence of the tapes in the first place?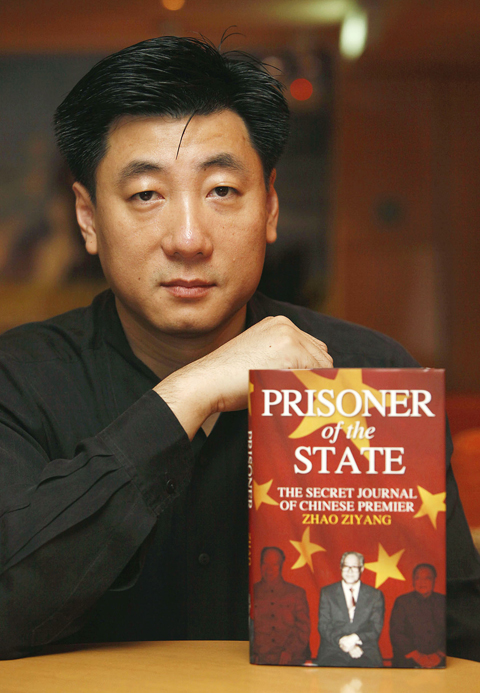 Bao Pu, one of the editors of Prisoner of the State: The Secret Journal of Premier Zhao Ziyang, shows the book during an interview in Hong Kong on May 15. His father, Bao Tong, was former Chinese premier Zhao Ziyang's top aide.
PHOTO: AP
Bao Pu (鮑樸):
Shortly after Zhao Ziyang's (趙紫陽) death in January 2005, in the
mourning process, people were prone to talk about his legacy. To our
surprise, we learned this set of tapes existed. The first person who
actually came forward was Zhao's close friend and one of the persons
who initiated the recording process. His name was Xiao Hongda (蕭洪達),
who was the deputy director of the central disciplinary commission. He
and Yao Xihua (姚錫華), former chief of the Guang Ming Daily, and Du
Daozheng (杜導正), former director of the General Administration of Press
and Publications, basically had in their possession different portions
of the tapes. We got involved in collecting the tapes. Of course, the
cooperation had to remain secret and the process took as long as
two-and-a-half years.


TT: So there was no doubt that the tapes were genuine?


Bao:
There was no doubt. First of all, the source of the tapes. Two, we have
access to all these people who worked closely with him, including my
father [Bao Tong, 鮑彤]. They have never in their minds doubted this was
not Zhao's voice. Thirdly, Zhao was a public figure and his voice was
already in the public domain, some of the recordings, particularly the
one when he was speaking to the students in Tiananmen Square on May 19
[1989], was widely distributed and that was [spoken] live. We also
released auto clips [of the tapes] and so far no one has come forward
to challenge their authenticity.


TT: Did you have any difficulties while working on the publication?


Bao:
The only difficulty was that communication was slow. We were limited to
a certain way of communication, you know. For example, we could not
pick up the phone and call, could not e-mail. In today's world, if you
write off electronic communication, you really do not have much choice.


TT: You mentioned before that you were followed.


Bao:
Right. Less than two weeks before the news broke [about the release of
the English edition in May] … some of the English press [in the US]
were given an advance copy that they handed to experts for advance
review and they were planning a big news event. It was during that
process, I think, that the [Chinese] authorities were alerted and they
knew I was involved because my name was on the cover. I suspected it
was the advance news planning that triggered the response from the
authorities. They started following me. I must emphasize that, of
course, I don't have direct evidence and these people have never
identified themselves. But from my past experience, because when I am
in Beijing I am followed, I know. I don't think that incident was
particularly unusual … [but] I almost expected it. I anticipated there
would be whole lot worse, so I am sort of surprised. It seems they
didn't react as quickly or as forcibly as I anticipated.

I
think these tapes have their own strength, their own rights and their
own power. It is very, very close to established facts. Even if they
[the authorities] have all the power in the world, they cannot refute
what happened, this version of the truth, and I think that's really why
so far we haven't seen any direct attack on this publication.


TT:
The Tiananmen Massacre is considered taboo in China. Will people in
China have access to this book, or is it banned as in the case of the
publication two years ago of Zong Fengming's (宗鳳鳴) book "Zhao Ziyang:
Captive Conversations" (趙紫陽軟禁中的談話)?


Bao:
I have to insist on the fact that my father said: "Zhao Ziyang has just
as much right as Mao Zedong (毛澤東) to publish his memoirs." I think
there's speculation, only speculation, that the book is banned in
China, although some people have told me that, in some instances, the
book was confiscated at the border, but the probability of it being
confiscated is no greater than other books published overseas.


There are basically two categories of books that are banned from being
imported to China: if the book is on the anti-pornography list or an
"overseas illegal publication."


I am trying to point out that this is a legal publication in the
Special Administration Zone of the People's Republic of China (PRC), so
there shouldn't be a reason they should ban it. Journey of the Reforms
[the title in Hong Kong] it is not a direct challenge to their current
political position, it is not a political statement. It is trying to be
historical fact, one version of history.


TT: Did Zhao describe in the tapes under what circumstances the recording was made?


Bao:
He said in the tapes: "I am recording this according to a written
statement" that he had written in 1993 and we know he started recording
in the year 2000. He was basically talking on the tapes based on a
draft he'd done seven years previously, but we don't know the precise
circumstances of the recording, he didn't mention it.


TT: Did he mention in the tapes what he wished to do with them?


Bao:
He did not leave any kind of instructions on how these tapes were to be
used, but it is our interpretation that he went through all this
trouble to finish this set of recordings, and there's no doubt in our
minds that he wants his version of history, his version of the story,
to survive.


TT: What was Zhao's family's reaction to the publication?


Bao:
Before the publication, they don't know the precise plan, but when we
asked them directly, they practically supported it. After the
publication, the family's reaction was the recording is authentic and
they said it is not that the book is published too early, but too late.


TT: What's the main message, if any, from the tapes?


Bao:
The main message, I think, was that he showed how China has gone
through the path of reform. He sees in the process of economic reform
that there's a rising social injustice and he clearly sees that you
have to deal with these social injustice issues on a political level.
This is, I think, most important. That he was willing to take on the
issue of social injustice on a political level, so he proposed
political reform, that the communist party would have to change the way
it governs.

Of course he was not given time to implement the
political reforms he proposed … the incident happened, so he was
quickly running out of time. After he was under house arrest, he said
his thinking had changed, but I don't really believe that his
fundamental thinking and his principles changed, it was only because he
had a new revelation that political reform in the end should have a
final destination and that is parliamentary democracy.


Part two of the interview will be published tomorrow.
Comments will be moderated. Keep comments relevant to the article. Remarks containing abusive and obscene language, personal attacks of any kind or promotion will be removed and the user banned. Final decision will be at the discretion of the Taipei Times.