FEATURE: Hundreds make their homes underground
Fifty-year-old Kao (高) moved to Taipei five years ago to work in a bakery, but because of the economic crisis, the bakery where the native of Pingtung worked closed and he ended up living in an underground car park at Taipei Railway Station.
"I do not have any family except my mother. I am still working part-time here and there while looking for a full-time job. I must survive because my mother is still counting on me. I can't give up," he said.
Kao is just one of dozens of residents of the east car park who are a constant source of concern for railway police and social workers.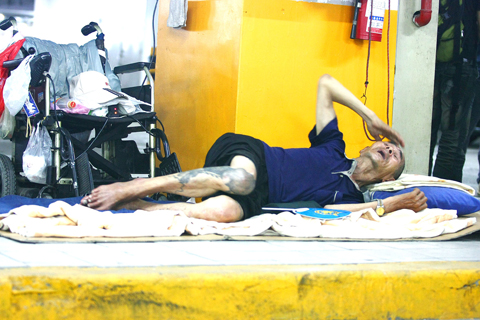 A man surnamed Chang lies on a makeshift bed in an underground parking lot at the Taipei Railway Station on May 15. Chang refused help from social workers and said he wanted to stay where he was.
PHOTO JIMMY CHUANG, TAIPEI TIMES
"We cannot drive them out because they are not breaking any laws," said Jhang Tian-cih (張天賜), deputy chief of the Railway Police Bureau's First Police Section.
Jhang visits the residents at the east car park every couple of days to make sure everything is under control. He said that about 300 people sleep at the station on a regular basis.
"The total has increased recently, probably because of the sluggish economy," he said.
Some of the ''residents'' of the underground parking lot at the Taipei Railway Station are pictured on May 15.
PHOTO: JIMMY CHUANG, TAIPEI TIMES
Their presence has caused problems for police because women are afraid to go there after dark. The absence of toilets and lavatories is also a problem.
Every now and then, quarrels break out between the residents, in which police have to intervene to maintain order.
"We are grateful that nothing serious has happened," Jhang said.
The Railway Police Bureau's records between October and March show that 236 "residents" live in the car park. Jhang said a "resident" is a person who returns to the station every night and regards the car park as his home. Among them, police have arrested 10 wanted fugitives while three have been detained for theft and another one for raping a woman who lived in the car park.
"We conduct checks — individual by individual — every now and then," Jhang said.
The officer said he would not call these people homeless because many are not really homeless. Some have daytime jobs and families, but return to the garage at night because they want to avoid paying rent or want to get away from their family.
"These people stay here for various reasons. Very few, however, qualify as legally homeless," Jhang said. "I dealt with one guy who refused to go with his wife when she came to the garage to take him to live in the US. We all make our own choices. What can you do?"
Many of the car park's residents are happy there, as Department of Social Welfare Division Chief Troung Fun-chyuan (童富泉) discovered during an operation on May 15 during which they were asked whether they wanted to swap the car park for city ­government-sponsored sheltered housing.
Their offer was not as popular as expected.
"Every time I visit, I offer them help and ask if they want to go to one of our shelters. Most of them refuse," Troung said.
Troung said one 70-year-old regular surnamed Chang (張) once said he was very sick and had a family that wanted him back.
"He decided to stay here because all his friends are here. Outside this place he is nothing and lonely," Troung said.
Chang is known by everybody in the car park, Jhang told the Taipei Times. As he is sick, police check on him every day to make sure he is feeling well.
"We don't want any incidents in the car park as we are responsible for it," Jhang said.
While taking care of its residents, the department also helps them to find jobs and organizes regular games.
"We are planning to organize a karaoke contest for the residents of our sheltered homes sometime in July. Some are actually really good singers," said Chang Hsien-chung (張獻忠), a social worker at the department.
Troung said he and his colleagues had helped a total of 115 people find jobs in the past year. They also helped another 55 rent an apartment or return home. Meanwhile, the department hired 15 elderly who wanted to work, but had difficulty finding a job because of their age.
"We will continue to help them, but we also hope their numbers will decrease," Troung said.
Two other residents surnamed Wang (王) and Chen (陳) who refused the offer of a shelter home told the Taipei Times they would stay out of trouble, but wanted to stick together.
Wang said he is 42 years old and Chen 38. Both come from Chiayi and have been in Taipei for almost 10 years. They started life in Taipei by taking short-term jobs at construction sites.
But when the economic crisis hit, job opportunities vanished and they could no longer afford to pay rent.
"We haven't given up. We just don't know where to go," Wang said. "I feel so sorry for my girlfriend because she also has to stay here with me."
Comments will be moderated. Keep comments relevant to the article. Remarks containing abusive and obscene language, personal attacks of any kind or promotion will be removed and the user banned. Final decision will be at the discretion of the Taipei Times.