FEATURE : Groups oppose legalizing sex trade
FLOATING ORIOLES The government has proposed red-light districts but critics say it should offer more job opportunities so women can avoid the sex trade
Sex workers have cautiously welcomed a government plan to legalize prostitution, but the scheme is being opposed by an alliance of women's groups who fear it will breed crime and violence.
A legal sex zone similar to Amsterdam's famed red-light district has been proposed for Taipei, with legal and zoning measures due in place within six months.
Prostitutes and their supporters say they see a ray of hope after many years of campaigning for legalization to protect them from both customers and police, but some are concerned about being moved into special zones.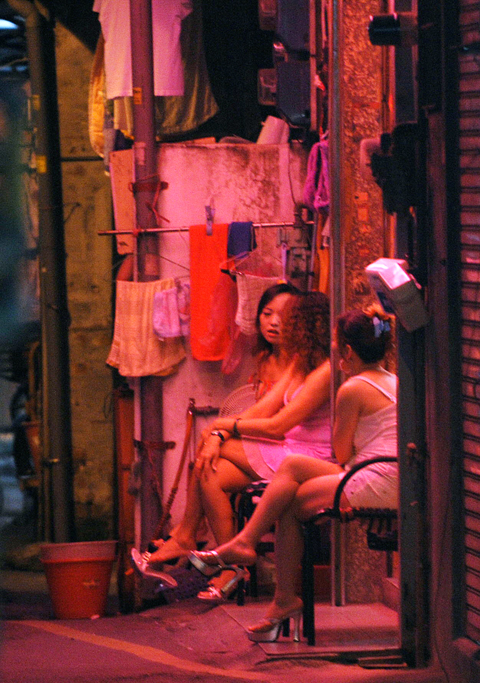 Prostitutes wait for customers at a brothel in Taoyuan on June 26.
PHOTO: AFP
"I hope the government will allow us to stay where we are and give us legal protection," said one prostitute who wanted to be identified as Hsiao-feng. "I don't want to move to a new place to start again."
Hsiao-feng earns a living in Wanhua District, which is believed to be home to thousands of sex workers plying their trade illegally even though prostitution was outlawed in the city in 1997.
"Who wants to have red-light districts near their homes?" she said. "The government would have to put us in the mountains but then we can't make a living because nobody wants to travel that far."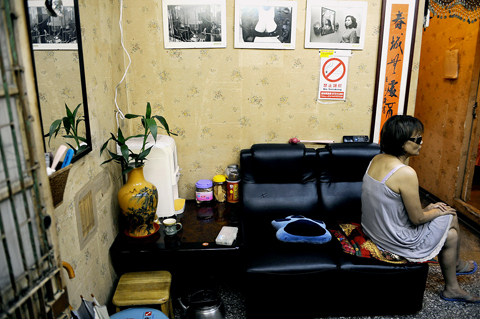 A prostitute, Miko, poses for a photo inside a brothel converted into a museum in Taipei on June 26.
PHOTO: AFP
Observers say paid-for sex remains big business and the ban has only driven it underground, where brothels operate under euphemistic names such as teahouses, massage parlors, clubs and even skin-care salons.
There are also women known as liu ying (流鶯, floating orioles) — a metaphor for flirtatious and seductive women — who find patrons on the streets.
There is no official record on the scale of Taiwan's sex industry but the advocacy group Collective of Sex Workers and Supporters (COSWAS) estimates that it involves 400,000 people and is worth NT$60 billion (US$1.8 billion) a year.
"Right now we are helpless when customers don't pay, or even rob or hurt us," Hsiao-feng said. "We have to watch out for the police and their informants because we can end up in prison if caught."
Prostitutes face three days in detention or a fine of up to NT$30,000 if arrested, while their clients go unpunished.
"The government should protect sex workers' human rights and stop treating them like criminals," COSWAS chief Chung Chun-chu (鍾君竺) said. "It should allow a blanket decriminalization to regulate the sex trade."
The public is divided on the issue, with 42.3 percent supporting the plan to legalize prostitution while 38.8 percent oppose it and the rest are undecided, a poll by the Chinese-language China Times found.
Arielle Su, an elementary school teacher in Taipei, says legalizing the sex trade cuts both ways.
"I think it can help prevent sex crimes as some people have needs and they would prey on the general public if they are unsatisfied," she said. "But as a mother and a teacher I am also concerned that it would corrupt morals."
A dozen local women's groups have formed an alliance against legalizing prostitution, warning that it would encourage crime and injustice against women.
"We oppose making prostitution a legal industry because it fosters sexual violence and exploitation of women," said Chi Hui-jung (紀惠容), head of The Garden of Hope Foundation.
Chi said that the Dutch ­authorities were reducing the size of Amsterdam's red-light district because of concern over criminal activities such as human smuggling and money laundering.
"The government should offer welfare programs and job incentives to women so they won't go into prostitution out of economic desperation," Chi said.
Hsiao-feng, a 45-year-old divorcee, says it is difficult for streetwalkers like her, with little education and few job skills, to find regular work.
"I don't like what I do for a living but I have to raise my children and pay the bills. I don't regret becoming a sex worker. I just hope the government will protect my safety so I am not always at the mercy of others," she said.
Comments will be moderated. Keep comments relevant to the article. Remarks containing abusive and obscene language, personal attacks of any kind or promotion will be removed and the user banned. Final decision will be at the discretion of the Taipei Times.