Jay Chou, Eason Chan sweep Melody Awards
ROUND OF APPLAUSE As the local scene celebrated Asian talent, organizers of the award ceremony paid tribute to Michael Jackson, who had influenced many
Jay Chou (周杰倫) and Hong Kong's Eason Chan (陳奕迅) swept the top awards at the 20th Golden Melody Awards on Saturday night, as organizers paid tribute to late pop legend Michael Jackson with a round of applause.
Chou won Best Male Singer for his 2008 album Magic Jay Station, as well as Song of the Year and Best Music Video, while Chan clinched Mandarin Album of the Year for Don't Want to Let Go.
Chou, a 30-year-old Taiwanese pop star, however, didn't show up for the ceremony and instead sent collaborator Gary Yang (楊瑞代) to collect his trophies.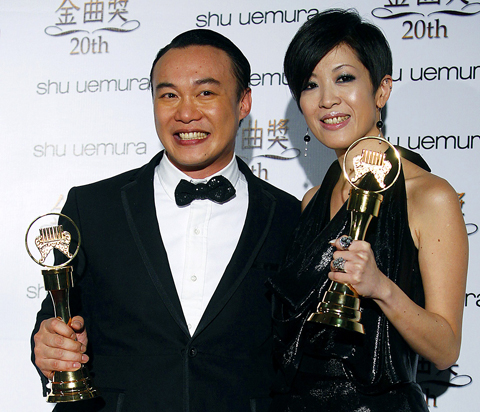 Hong Kong singer Eason Chan, left, celebrates after winning the Best Mandarin Album for Don't Want to Let Go with Sandee Chan, winner in the Best Female Vocalist-Mandarin category, at the 20th Golden Melody Awards in Taipei on Saturday.
PHOTO: REUTERS
"Jay wanted me to say that it's very cool that besides his music, his video work is also honored," Yang said.
Chan, who lost to Chou in the Best Male Singer category, appeared surprised that he had won best album. He said he felt honored to receive the prize from "my idol," referring to presenter Jacky Cheung (張學友), one of the biggest names in Chinese pop, as his fans chanted "Eason."
Organizers also paid tribute to Jackson — who died on Thursday in Los Angeles, California — with host Momoko Tao (陶晶瑩) asking the audience to give him a round of applause.
"I believe many of the singers attending today's ceremony were influenced by him," she said.
Sandee Chan (陳珊妮), who started her career as a composer, clinched Best Female Singer for the album If There Is One Thing That's Important.
"I don't think I'm someone with a naturally gifted voice or someone who knows how to sing very well, but I spent a lot of time trying to do a good job at singing," she said.
Cheung sang his 1993 hit Farewell Kiss, which was voted by fans as the most popular song to compete in the first 10 Golden Melody Awards ceremonies.
South Korea's Super Junior drew wild shrieks at the 15,000-capacity Taipei Arena with their fast-paced hit songs It's You and Sorry, Sorry. The 13-member boy band donned white suits with black dress shirts and danced in unison.
Ouyang Fei Fei (歐陽菲菲) — known for her Tina Turner-like disheveled hairdo and successful Japanese recording career — and veteran Hong Kong singing trio Grasshopper also performed.
The Special Achievement prize went to Rock Records' Sam Duann (段鍾潭).
The founder of one of Chinese pop's most respected labels held aloft a yellow banner that said "Long Live Music."
The Jury Prize was awarded to a compilation of covers of songs by famed Taiwanese folk singer Li Shuang-ze (李雙澤).
Comments will be moderated. Keep comments relevant to the article. Remarks containing abusive and obscene language, personal attacks of any kind or promotion will be removed and the user banned. Final decision will be at the discretion of the Taipei Times.