Lawmakers vote to increase supervision of Public TV
INTERFERENCE DPP legislators said yesterday's vote would allow the KMT to interfere in the running of the Public Television Service and dilute oversight
The legislature passed an amendment to the Public Television Act (公共電視法) yesterday to increase the number of Public Television Service (PTS) board members and supervisors.
The 77 legislators present during the plenary session voted 53 to 24 in favor of an amendment proposed by Chinese Nationalist Party (KMT) caucus whip Lin Yi-shih (林益世) that stipulates the PTS' board of directors be composed of 17 to 21 members, compared with 11 to 15 people in the original regulation.
The legislature will recommend 11 to 15 nominees while the Executive Yuan recommends the others, the amendment says.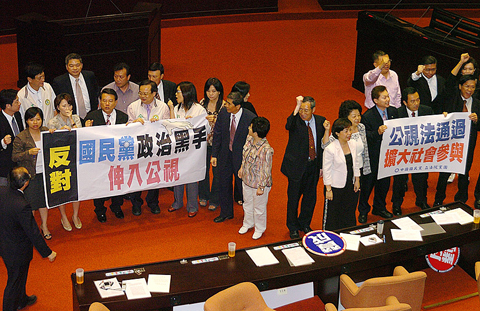 Pan-green legislators, left, and pan-blue legislators hold up banners after an amendment to the Public Television Act was passed yesterday, boosting the size of the Public Television Service's board and the number of its supervisors.
PHOTO: CHIEN JUNG-FONG, TAIPEI TIMES
The number of board members affiliated with any political party is still capped at 25 percent, while all board members are barred from participating in any activities held by political parties.
Democratic Progressive Party (DPP) legislators say the KMT is trying to interfere in the running of PTS.
"The purpose of this bill is very clear. The KMT is trying to gain full control of PTS by increasing the number of board members and supervisors," DPP Legislator Kuan Bi-ling (管碧玲) said on the legislative floor.
Kuan said the amendment would "dilute" the authority of PTS' current board members.
"Seeing a new authoritarian regime in the making and a president becoming an emperor, the DPP is deeply worried," Kuan said, adding that the KMT was trying to infringe upon the independence and impartiality of the PTS.
KMT caucus secretary-general Yang Chiung-ying (楊瓊瓔), however, said the party was trying to give the public more opportunity to participate in the running of PTS.
"We hope to ensure the independence and impartiality of the media and prevent any political influence from interfering with PTS," Yang told a press conference.
Lin said he did not understand the DPP's concerns, adding that he believed every nominee for the board would be qualified for the job.
Meanwhile, legislators passed an amendment to the Act Governing the Establishment and Management of Free Trade Ports (自由貿易港區設置及管理條例), lowering the job quota for Aborigines in companies operating in free trade ports from 5 percent to 3 percent. But they also passed a resolution obliging the Ministry of Transportation and Communications to inspect the companies' employment records on Aborigines every three months.
Also approved was a bill granting village and borough chiefs subsidies for health checkups and insurance, which the DPP alleges is a KMT effort to bribe officials before the year-end elections.
Comments will be moderated. Keep comments relevant to the article. Remarks containing abusive and obscene language, personal attacks of any kind or promotion will be removed and the user banned. Final decision will be at the discretion of the Taipei Times.