Stranded whale shark freed from canal in Tainan
FIRST TIME This is the first time in the canal's 90-year history that a whale shark found itself trapped. Anping used to be the nation's largest whale shark fishing port
A young whale shark that became trapped in the Tainan Canal yesterday was freed thanks to the efforts of the city's fire department and conservationists.
Members of the city's fire department and conservationists rushed to the scene yesterday morning after it was reported that a young whale shark measuring about 3m long had swum into the canal — the first such occurrence in the canal's 90-year history.
Fire department staff first searched the canal on a lifeboat and a sampan, trying to help the whale shark swim back to the open sea.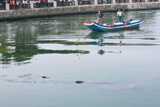 Wildlife conservationists riding on a sampan search for a young whale shark, also called a "tofu shark," which was trapped in the Tainan Canal yesterday.
PHOTO: CNA
But in the end, they managed to capture the whale shark using a fishing net before setting it free in the ocean.
They said they believed that the whale shark swam into the canal from the nearby Anping fishing port, where construction work was in progress.
Whale sharks, the world's largest fish, were added to Appendix II of the Convention on International Trade in Endangered Species (CITES) in 2002, which means whale shark products can only be sold with special permits.
At the beginning of last year, regulations were introduced that banned the fishing, sale, importation and export of whale sharks.
The whale shark is found in tropical and warm oceans. It can grow to lengths of up to 20m and weigh up to 30 tonnes.
The species is called the "tofu shark" locally because its meat purportedly looks and tastes like tofu. Whale sharks have been targets of harpoon fishing because their meat and fins fetch a high price on the international market.
Whale sharks are seen as having the potential to play an important role in eco-tourism because they are no threat to humans and it is considered safe to swim with them. There is a growing interest in the species among divers and dive businesses.
Before the government banned fishing of the "tofu shark," Anping was the nation's largest whale shark fishing port, with catches sometimes topping 70 fish per year, Tainan fishermen said.
Also See: Rescuers attempt to save stranded whales, dolphins
Comments will be moderated. Keep comments relevant to the article. Remarks containing abusive and obscene language, personal attacks of any kind or promotion will be removed and the user banned. Final decision will be at the discretion of the Taipei Times.