DPP invites Ma to its national civic affairs conference
The Democratic Progressive Party (DPP) yesterday invited President Ma Ying-jeou (馬英九) to attend a national civic affairs conference the party plans to hold later this month.
DPP Chairperson Tsai Ing-wen (蔡英文) told reporters the party hoped Ma could attend "and listen to a real voice from the public."
The DPP and Taiwan Solidarity Union are cosponsoring the conference with the goal of gauging public opinion on national affairs.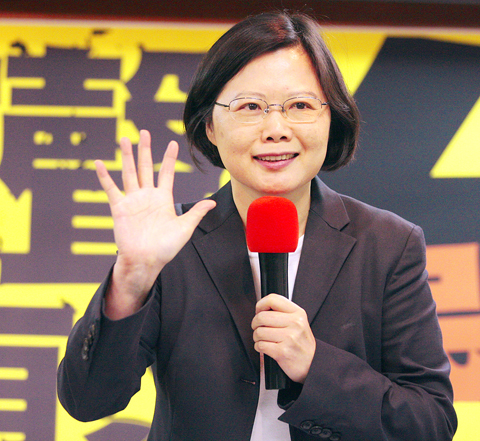 Democratic Progressive Party Chairwoman Tsai Ing-wen speaks at a preparatory meeting yesterday for a national civic affairs conference the party plans to hold later this month.
PHOTO: CHAN CHAO-YANG, TAIPEI TIMES
Assessing public opinion through the proposed conference could help monitor government performance, the DPP said.
Tsai called on reform-minded people aged 30 to 40 to join the preparatory meetings for the national affairs conference and to contribute their ideas for reform of the party and of the country.
Meanwhile, the DPP plans to set up a department of social movements and to conduct an overall assessment of the government's performance as part of its effort to promote reform.
In line with the DPP's designation of this year as the year of civic movements, Tsai recently instructed a party reform team to look into the establishment of a civic movements department, a party official said.
This would require revising the party's organizational charter to prepare for constant engagement in street protests, the official said.
Under Tsai's reform plan, for the first five months of this year the DPP will focus on soliciting opinions from all sectors of society and forging consensus through discourse and discussion, the official said.
Aside from holding a conference on national affairs to educate people on their right to assemble peacefully and to vote in referendums, the DPP also hopes to promote the concept of Taiwan's national sovereignty, the official said, adding that the party might also hold a rally for the unemployed on May 1, Labor Day.
In the second phase of the plan, the DPP will assess the performance of the Ma administration before the end of its first year in power on May 20, the official said.
With the Chinese Nationalist Party (KMT) and its allies holding nearly three-quarters of the seats in the legislature, the DPP has no choice but to resort to street demonstrations to carry out its function of providing checks and balances and to guard against the abuse of power, the official said.
Comments will be moderated. Keep comments relevant to the article. Remarks containing abusive and obscene language, personal attacks of any kind or promotion will be removed and the user banned. Final decision will be at the discretion of the Taipei Times.