Chen Shui-bian book hits shelves
Former president Chen Shui-bian's (陳水扁) new book, The Cross of Taiwan, hit the shelves yesterday.
In the book he questions former premier Frank Hsieh's (謝長廷) presidential campaign strategy and insinuates that Hsieh should be held solely responsible for the Democratic Progressive Party's (DPP) defeat in last year's presidential election.
The 247-page book is split into two parts: "Long Live Taiwan" and "Prison Conversation."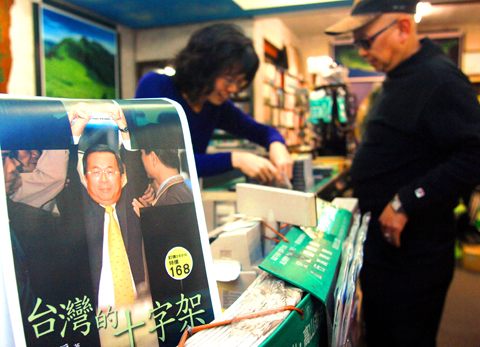 A man buys copies of former president Chen Shui-bian's new book at a bookstore in Taipei yesterday next to a sign that carries the cover of the book.
PHOTO: AFP
"Long Live Taiwan" contains five chapters representing the five stages of his life. They are Rebirth after Death, Striving Upstream, Visions, Persistence on Principles and Taiwan Independence.
"Prison Conversation" is the diary he kept during his pre-trial detention from November until last month and his current imprisonment.
In the chapter Striving Upstream, Chen writes that it was unfair for him to shoulder all the responsibility for the party's defeat in last year's presidential election.
"The Democratic Progressive Party's biggest opponent does not lie on the outside, Ma Ying-jeou (馬英九) or the Chinese Nationalist Party (KMT)," Chen said. "But it lies on the inside. The party is not united and everybody has his or her own axe to grind."
Chen cast doubt on Hsieh's campaign strategy, saying that while his party had initially hoped the KMT would split, they realized the game was up when the KMT remained solidly united.
Ma's green card status appears to have been the Hsieh campaign's only issue, Chen said, adding that it was just "one bad show dragging on for too long."
Everybody wants to struggle upstream, Chen writes, but sometimes a person must make sacrifices in return for a bigger reward and sometimes a person messes up not because the person is stupid, but because he is too intelligent.
In response, Hsieh's office yesterday issued a statement suggesting that Chen mind his own business because the popularity of the DPP and KMT were evident since the "three-in-one" election in 2005. Besides, Hsieh also shouldered responsibility for the election defeat.
The statement dismissed Chen's description of his interactions with Hsieh as "false," but said that Hsieh understood Chen's state of mind.
"We do not mind as long as it helps the former president," the statement said. "Hsieh hopes the former president can concentrate on his own legal case, because it is more important."
Comments will be moderated. Keep comments relevant to the article. Remarks containing abusive and obscene language, personal attacks of any kind or promotion will be removed and the user banned. Final decision will be at the discretion of the Taipei Times.