Moviegoers get a break on snacks
THOU SHALT NOT BRING The GIO said it sent a notice to movie theaters in Taipei and Kaohsiung asking them to list the types of food that viewers cannot bring inside
Movie theaters are not allowed to put up signs or posters barring customers from bringing food from outside, the Consumer Protection Commission (CPC) said yesterday.
The commission released the results of a survey of 79 movie theaters nationwide yesterday, which showed that 26 had signs forbidding customers bringing in food from outside. Among them, 11 banned certain foods, whereas the others had no such statement. The commission said in a press release yesterday that asking customers not to bring in food from outside was considered a clause in the "standardized contract" between vendors and customers and was thereby regulated by the Consumer Protection Law (消費者保護法).
If a movie theater fails to inform customers about the types of food they are not allowed to bring, the theater is violating the principle of reciprocal favored treatment.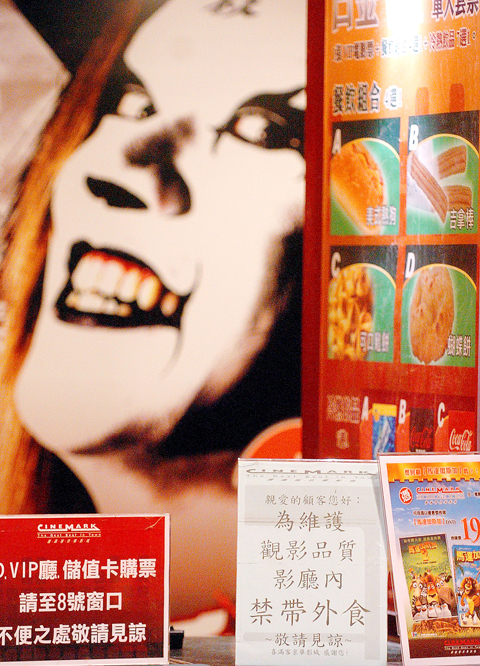 A sign in the foyer of a movie theater in Taipei yesterday informs customers they cannot bring food from outside into the theater. A Consumer Protection Commission survey of 79 movie theaters found that 26 of them have such a rule, which the commission says violates the Consumer Protection Law and is therefore invalid.
PHOTO: CHANG CHIA-MING, TAIPEI TIMES
Customers can see this requirement as invalid and can choose not to respect it, it said.
The commission said the Government Information Office (GIO) had sent official notices on Friday to movie theaters unions in Taipei and Kaohsiung, asking their members to list the food that cannot be brought into theaters on the signs, such as stinky Tofu, fried chicken or any food with a strong smell.
Meanwhile, theaters should designate a dining area where customers can finish food they brought from outside before entering the theater, or ask customers to pick up their food at a deposit area after they finish watching a movie.
Regina Chen (陳靜緻), spokesperson at Cinemark (喜滿客京華影城), said they had not received any official notice from the GIO, adding that it was not possible to follow the government regulations.
"We have to consider the interests of the majority of our customers," she said. "If we allow some to bring in food, such as noodle soup or food with a strong smell, others may feel uncomfortable."
"This matter has been discussed for years. I don't see why people want to talk about it again," she said.
The Breeze Center's Ambassador Theater (國賓微風) also said it had not received the GIO notice. It said it did not allow customers to bring food from outside once they were inside the showroom.
Brandon Huang (黃詩凱), a government employee, said movie theaters had set the restrictions mainly to force people to consume the food they sell.
"The theaters must at least tell us what we can and cannot bring," he said.
Ally Huang (莊瑩之), a service clerk working at the airport, said she likes to bring her own food to the theater because the food sold at theaters "is way too expensive."
"Sometimes, you just don't want to eat popcorn or drink coke, you want to eat something else," she said.
Huang disagreed with the theater's arguments for barring certain kinds of food.
"People could always argue that the smell of popcorn bothers them, too," she said.
Comments will be moderated. Keep comments relevant to the article. Remarks containing abusive and obscene language, personal attacks of any kind or promotion will be removed and the user banned. Final decision will be at the discretion of the Taipei Times.