CROSS-STRAIT TALKS: DPP encourages protesters to join a 'siege of Boai'
BALANCE LOST The NPA denied rumors that it had ordered the confiscation of ROC flags or that buses carrying demonstrators from the south be stopped
Calling on people to join the Democratic Progressive Party's (DPP) rally to "besiege" Association for Relations Across the Taiwan Strait Chairman Chen Yunlin (陳雲林) when he meets President Ma Ying-jeou (馬英九) today, DPP Chairwoman Tsai Ing-wen (蔡英文) said yesterday she would take full responsibility for the rally.
Tsai said the DPP would do all it can to hold a peaceful demonstration, but that it cannot guarantee that protesters would not be radicalized if police denied them their right to free expression.
The DPP-organized "Yellow Ribbon Siege" will start at 1pm, with protesters walking to the Taipei Guest House on Ketagalan Boulevard and besiege the Boai District (博愛), chanting slogans and using horns, bells, whistles and other objects to generate noise, DPP spokesman Cheng Wen-tsang (鄭文燦) said.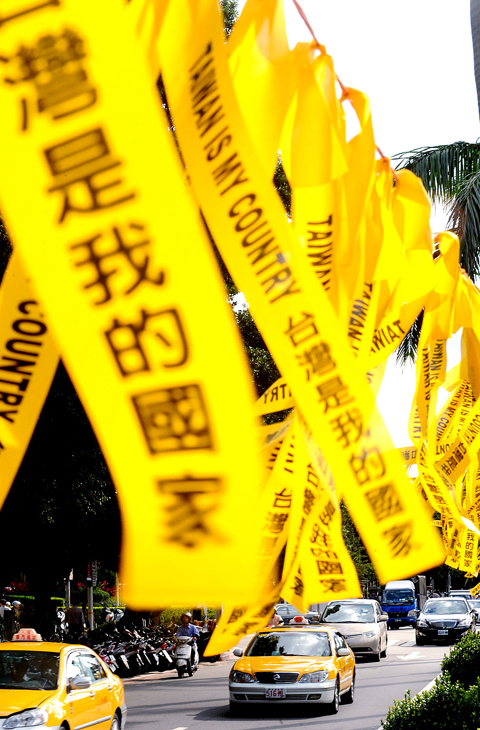 Yellow ribbons reading ''Taiwan is my country'' in English and Chinese are hung outside the legislature yesterday in support of the series of protests against the visit of Association for Relations Across the Taiwan Strait Chairman Chen Yunlin.
PHOTO: LIN CHENG-KUNG, TAIPEI TIMES
Cheng said that the party expects 100,000 to take part in the rally.
"We will let Ma and Chen hear the voice of the people," he said.
After initially denying the DPP permission to hold the rally, the Taipei City Police Department yesterday afternoon announced it had given the DPP permission.
Saying that the DPP is not opposed to cross-Taiwan Strait exchanges or dialogue to help maintain stability and peace, Tsai said the party is simply worried that Taiwan is paying too high a price.
"Balance has been lost on this visit [by Chen]. Taiwan is paying too high a political price in terms of sovereignty, democracy, freedom of speech and all other forms of expression commonly enjoyed in a free and democratic society," Tsai said.
"I am depressed because we are going through a dark period in Taiwan's history," she said. "People's rights, personal liberties, freedom of speech and judicial rights were seriously violated in the past couple of days. Facing an authoritarian government, the party had no choice but to take to the streets, just as it fought for Taiwan's democracy before."
At a separate setting yesterday, National Police Agency director-general Wang Cho-chiun (王卓鈞) denied allegations that government officials had ordered the confiscation of Republic of China flags, and rebutted rumors that local police departments in central and southern Taiwan were to stop any bus heading to Taipei carrying demonstrators on their way to the rally.
"Our goal has always been to protect all legal activities, block illegal ones and sanction violent acts," Wang said, acknowledging that there are had been problems in how police had handled demonstrators.
He said, however, that police had acted within the law.
Wang said all police officers on duty would follow three main guidelines: act according to the law, remain neutral and strictly reinforce the law.
"So far, all police action has respected the legal framework," he said. "Although I have to say that some officers do need to improve their skills and attitude."
Taiwan Solidarity Union (TSU) Chairman Huang Kun-huei (黃昆輝) said yesterday he would also lead TSU supporters at the rally.
The Chinese Nationalist Party (KMT) caucus urged the DPP to call off its plan to "besiege" the Taipei Guest House during Ma's meeting with Chen.
Calling the plan "illegal," KMT caucus deputy secretary-general Yang Chiung-ying (楊瓊瓔) yesterday urged Tsai to "stop throwing Taiwan into chaos."
ADDITIONAL REPORTING BY FLORA WANG
Comments will be moderated. Keep comments relevant to the article. Remarks containing abusive and obscene language, personal attacks of any kind or promotion will be removed and the user banned. Final decision will be at the discretion of the Taipei Times.