Peng tells details of escape from KMT
PIONEER After escaping Taiwan using false identification, democracy pioneer Peng Ming-min had a problem when he finally arrived in Sweden: proving that he was himself
Democracy pioneer Peng Ming-min (彭明敏) and those who helped him escape the Chinese Nationalist Party (KMT) regime in 1970 to seek political asylum in Sweden gave detailed accounts of the well-planned journey at a press conference in Taipei yesterday.
Before 1963, Peng's life seemed to be perfect — he had served as the youngest chair of National Taiwan University's Political Science Department from 1961 to 1962; he was appointed an advisor to the Republic of China's delegation to the UN Assembly in New York; he had been received by dictator Chiang Kai-shek (蔣介石) in a private audience and he was nominated as one of the 10 "outstanding young people."
At the time, KMT officials had hinted to Peng in private that "when a reshuffle took place in the government, I would be considered for a high-level appointment. They implied that it was merely a matter of time and of my intention," Peng wrote in his English-language memoir titled A Taste of Freedom.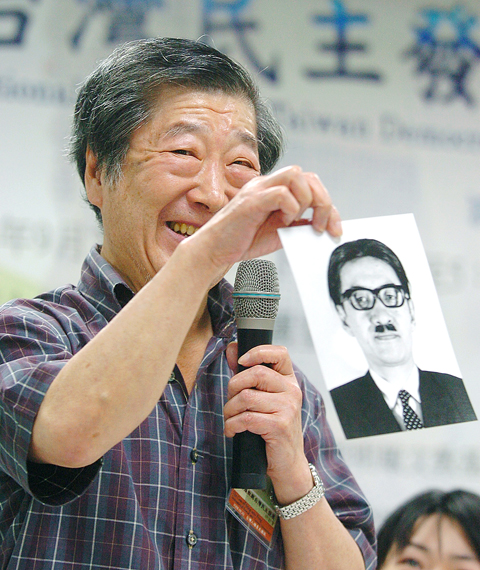 Munakata Takayuki, holds up a photo of a disguised Peng Ming-min taken in 1970 at an event organized by the Peng Ming-min Foundation in Taipei yesterday.
PHOTO: LIAO CHEN-HUEI, TAIPEI TIMES
However, Peng took another path and he put his thoughts into action in 1964 by co-authoring the "Declaration of Formosan Self-Salvation" with two of his students, Hsieh Tsung-min (謝聰敏) and Wei Ting-chao (魏廷朝).
The declaration challenged the KMT regime's policy of retaking China militarily, called for democratic reform and urged Taiwanese to rise against the KMT regime if it refused to answer the call.
The three did not get a chance to distribute the declaration as they were arrested early in the morning of Sept. 20, 1964, with 10,000 copies ready for distribution.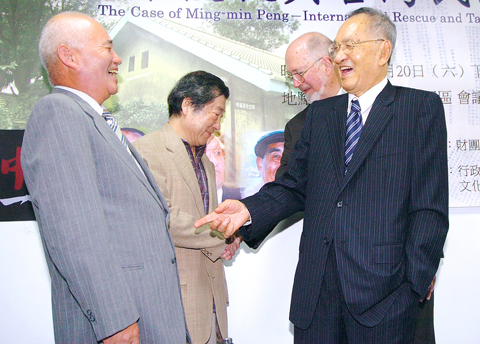 Peng Ming-min, right, laughs with Abe Kenichi.
PHOTO: LIAO CHEN-HUEI, TAIPEI TIMES
Peng was sentenced to eight years in prison in 1965. But because of international pressure, he only served a few months before being transferred to house arrest later in the same year.
By 1969, Peng drew up a plan that led to his successful escape to Sweden in 1970.
Yesterday — marking the 44th anniversary of Peng's arrest — Peng and two Japanese who played a key role in his escape decided to shed light on the details of Peng's escape, which had remained a mystery for years
Munakata Takayuki, one of the two Japanese, told a gathering in Taipei yesterday that he had been in touch with Peng secretly since 1968, when Peng was still under house arrest.
Munakata had long been an active member of the World United Formosans for Independence (WUFI), and is currently a WUFI central standing committee member.
"In February 1969, Peng asked if it would be possible to escape from Taiwan because he could have been imprisoned again or even assassinated," he said. "I promised to help him work out a plan right away."
Munakata suggested that leaving the country in disguise with a foreign passport would be the safest way for Peng to escape.
Soon, Munakata went to close friend Abe Kenichi, who agreed to loan his passport to Peng.
"I spent nine months studying how to change the passport picture without it being noticeable" while Peng tried to change his appearance, Munakata said, showing three pictures that Peng sent him at the time.
In the three pictures, Peng changed his appearance by wearing a wig, growing a beard, or wearing glasses.
"As you can see, the first two pictures look really fake, and finally the third one looks more natural, so we decided to use the third one," Munakata said, laughing.
As the two planned Peng's "escape appearance," Munakata sent Abe to Taipei to give his passport to Peng.
"It's amazing how much trust we had in each other, because we had never met," Peng said. "In order to make it easier for Abe to recognize me, we set up a meeting date, time, location and I told him I'd be carrying an umbrella."
Finally, the two met and Abe handed his passport and flight ticket to Peng. Peng replaced Abe's picture with his own and left Taipei for Hong Kong.
"I stayed in my hotel in Taipei and was very nervous all the time until two days later when I received a tourist brochure — a signal that Peng had arrived in Sweden safely," Abe said.
Afterwards, Abe went to the Japanese embassy in Taipei to report his "missing" passport, and was issued a new one in 10 days.
"I traveled with my new passport to Manila the next day without any problem — thanks to the low-tech immigration service," Abe said. "I would have been caught if the immigration system were computerized as it is today."
From Hong Kong, Peng hopped from Bangkok to the then-Soviet Union, made a stop in Denmark and finally arrived in Stockholm.
"Through human rights organizations, Sweden had already agreed to grant me political asylum prior to my departure," Peng said. "But there was still a small problem as I had no documentation to prove that I was Peng Ming-min."
"So the Swedish government ran ads across the country, calling on people to come identify me. Luckily, I had some friends there, so I was quickly identified as Peng Ming-min and granted asylum," he said.
"It's true that our democracy is the result of hard battles fought by our democracy pioneers, but we must not forget many of our friends in other countries who provided so much help to us and would never boast about what they've done," he said.
Publication Notes
Peng Ming-min (彭明敏)
Birth: Aug. 15, 1923, in Dajia Township (大甲), Taichung County.
Education:
■Attended the Imperial Tokyo University from 1942 to 1945, when his studies were interrupted by Japan's surrender
■Received a B.A. in political science from National Taiwan University, 1948
■Received an LL.M from McGill University, Montreal, Canada, 1953
■Received a Ph.D. in law from University of Paris, 1954
Experience:
■Professor of international law at National Taiwan University's Political Science Department, 1957
■Chair for National Taiwan University's Department of Political Science, 1961 to 1962
■Adviser to the Republic of China delegation to the UN Assembly, 1962
■Nominated as one of the nation's "Top 10 Outstanding Young People," 1963
■Released the "Declaration of Formosan Self-Salvation" in 1964; arrested soon afterwards
■Sentenced to eight years in prison in 1965. Soon granted amnesty by dictator Chiang Kai-shek (蔣介石) because of international pressure, but was placed under a five-year house arrest
■Escaped to Sweden and was granted political asylum in January 1970; moved to the US in September
■Actively involved in Taiwan independence and democracy movement in the US from 1970 to 1992
■Returned to Taiwan after then-president Lee Teng-hui (李登輝) agreed to remove Peng from the "wanted" list
■Represented the Democratic Progressive Party in the 1996 presidential election as its presidential candidate, losing to Lee
■Served as presidential advisor from 2000 to 2006compiled by staff writer
Comments will be moderated. Keep comments relevant to the article. Remarks containing abusive and obscene language, personal attacks of any kind or promotion will be removed and the user banned. Final decision will be at the discretion of the Taipei Times.