Fisherman returns after being abandoned 27 years ago
A Taiwanese fisherman finally returned to his home in Hualien City several days ago after being abandoned by his fellow crewmembers in Reunion, an Indian Ocean island belonging to France, during a fishing trip 27 years ago.
Hu Wen-hu (胡文虎), 57, left Taiwan on a Kaohsiung-registered fishing boat in 1981 and was given shore leave in Reunion when his ship stopped at the island. He said that when he returned to the port at the time his captain had set, his ship had already departed.
"My only choice was to just keep on living," Hu said.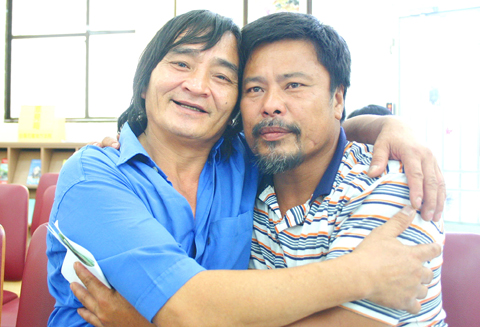 Hu Wen-hu, left, hugs his stepbrother Peng Hsin-yuan in Hualien last Saturday after being reunited after 27 years. Hu was left by his shipmates in Reunion, a French island in the Indian Ocean, during an ocean-fishing trip 27 years ago.
PHOTO: YANG YI-CHUNG, TAIPEI TIMES
Hu started his life on Reunion with nothing. Life was difficult at first but later he married a local woman and obtained a temporary residence permit. He went to a French school to study French and learned Chinese cooking skills. Hu later got a divorce after his wife took off with all his savings, forcing him to close two of the three Chinese restaurants they had opened together. Some time later, he remarried.
The only identification Hu had on him when he was abandoned was his crewmember card, which made it very difficult for him to return to Taiwan, Hu said as he recounted the story to reporters after returning to Taiwan last week.
Fortunately, he said, he managed to obtain temporary identification papers several months ago through the assistance of Taiwan's representative office in France, allowing him to return to Taiwan.
Hu's family members had given up all hope of finding him seven years ago when they finally reported him missing. Knowing that the court would issue a death declaration if a person were reported missing for seven years, Hu went to the Taiwan Hualien District Court on Monday in the hope of revoking it.
Hu said he was surprised to find he had yet to be declared dead by the court and that he could re-apply for household registration as soon as the police station issues a statement acknowledging he is still alive.
"How could I not miss Taiwan? Especially every time I thought of my mother, I felt very sad," Hu was quoted as saying.
He said he had returned to Taiwan not only to retrieve his household registration, but also, hopefully, to bring his 27-year-old wife from Reunion.
It is generally thought that Hu could have sought assistance through diplomatic means as soon as he realized that he had been abandoned. Hu said that he wrote a letter to the Taiwanese government but never got a reply.
Comments will be moderated. Keep comments relevant to the article. Remarks containing abusive and obscene language, personal attacks of any kind or promotion will be removed and the user banned. Final decision will be at the discretion of the Taipei Times.