DPP calls for financial donations
STARTING ANEW By making its budget 26 percent smaller this year and organizing fundraisers, the party says it can prevail in its battle to remain afloat
Democratic Progressive Party (DPP) Chairwoman Tsai Ing-wen (蔡英文) yesterday jokingly invited President Ma Ying-jeou (馬英九) to donate money as the DPP launched a fundraising campaign to alleviate its financial woes.
Asked if she would meet Ma if she received an invitation — which the Chinese-language United Daily News said on Monday the Presidential Office was considering — Tsai said she would like to know more about the setting and what the purpose of the meeting would be before she made any decision.
"But if he wants to donate money, he is most welcome," she said, drawing a round of laughter.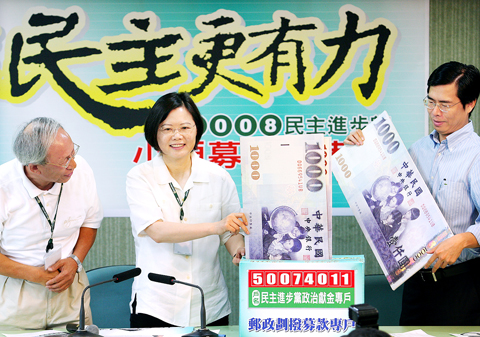 Democratic Progressive Party (DPP) Chairwoman Tsai Ing-wen attends a party fundraising campaign in Taipei yesterday.
PHOTO: CNA
Facing a NT$100 million (US$3.3 million) deficit, the DPP called on the public to donate money to the party's political donation special account. A donation hotline has also been set up.
Donors can pick up a wire transfer slip at post offices or party service centers, party officials said.
Tsai said the DPP started out as a small opposition party with modest resources. A photograph of former party leader Chiang Peng-chien (江鵬堅) holding a box asking for donations still hangs on the wall of party headquarters, she said.
"As we return to the opposition, we are starting anew," she said. "We hope the public and the media will help us and respond generously to our call for help."
The party will also hold a series of fundraising activities around the country, she said.
To cut costs, Tsai said, the party's budget this year would be 26 percent lower than last year and cost-saving measures are being considered.
"It is indeed very hard," she said. "But we will not go bankrupt. The DPP will continue to exist and play a spirited role."
DPP Secretary-General Wang Tuoh (王拓) said the party played a significant role in the nation's democratization, including pressuring the Chinese Nationalist Party (KMT) government to lift martial law, pushing for elections in the legislature and popular presidential elections.
With the KMT back in power, Wang said the DPP must be strong to keep it in check — especially as it controls both the legislative and executive branches.
Saying the country needs the DPP to ensure the health of its democracy, party spokesman Cheng Wen-tsang (鄭文燦) said that helping the DPP overcome its financial difficulties was tantamount to helping the country's democracy make further progress.
Meanwhile, the DPP has said that its Central Standing Committee meeting today would be held in Chiayi.
Comments will be moderated. Keep comments relevant to the article. Remarks containing abusive and obscene language, personal attacks of any kind or promotion will be removed and the user banned. Final decision will be at the discretion of the Taipei Times.