Liu defends government performance
LOW RATING? Responding to criticism that the administration set policies in reaction to media reports, the premier said he would not be so unpopular if he had done so
Premier Liu Chao-shiuan (劉兆玄) said yesterday he was satisfied with the one-month-old government's performance, while highlighting the need for improvement.
Liu declined to grade the government's performance, saying the public would think the administration was not modest if he were to give it a high score or it could suffer if he were to give too low a grade.
"We have accomplished a lot over the past one month, but we also heard criticism," he said. "We will accept it with an open mind. We know we are not perfect."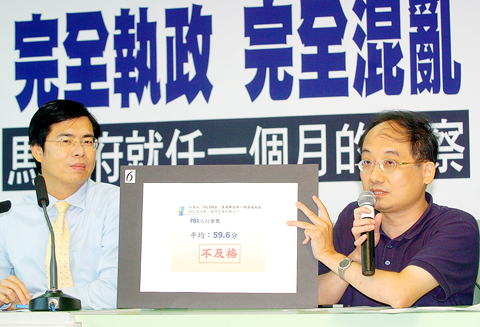 Democratic Progressive Party (DPP) Deputy Secretary-General Chen Chi-mai, left, and Chen Chun-lin, director of the DPP's Public Opinion Survey Center, release the results of a survey on President Ma Ying-jeou's support ratings yesterday.
PHOTO: FANG PIN-CHAO, TAIPEI TIMES
Liu said the direction of the policies they initiated over the past month was correct, but the public may not see immediate results.
If there was anything the administration could do better in the future, Liu said, it was to strengthen communications with the public, the media and the legislature. The administration should also take time to formulate policies and government officials should strive for accuracy in explaining government policies and their positions.
Liu made the remarks at a gathering with reporters in response to media inquiries about an opinion poll released by the Democratic Progressive Party (DPP) yesterday.
The poll found that respondents gave failing grades to the performances of the administration and the Executive Yuan. Liu's approval rating was about 48 percent.
The survey also showed that the top three most unpopular ministers were Minister of Foreign Affairs Francisco Ou (歐鴻鍊), Minister of National Defense Chen Chao-min (陳肇敏) and Council of Agriculture Minister Chen Wu-hsiung (陳武雄). Executive Yuan Spokeswoman Vanessa Shih (史亞平) was the most popular government official.
Liu said he would use the survey as a reference to reflect on himself. He urged government officials receiving bad grades to accept the result and take it as a warning.
He said he believed there was much room for improvement and that the low approval ratings must be a result of misunderstandings caused by their inaccurate explanation of their positions.
Not all government officials did a bad job, Liu said, and Shih was one of them.
Shih, who hosted yesterday's event, thanked the public for their support and said she would continue to devote herself to doing a good job.
While the premier has announced there would be a personnel reshuffle in state-owned businesses, he said yesterday that his decision would be based on individual performance, expertise and moral character, not political affiliation.
Liu said he would not listen to rumors or one-sided criticisms against the person but would spend time observing their words and deeds before he made any decision.
As long as the officials performed their duties and did everything in accordance with the law, they need not worry about anything.
Responding to criticism that the government set policies in reaction to media reports, the premier said he respected such remarks but it was a misunderstanding because had he done that, he would not have been so unpopular.
Comments will be moderated. Keep comments relevant to the article. Remarks containing abusive and obscene language, personal attacks of any kind or promotion will be removed and the user banned. Final decision will be at the discretion of the Taipei Times.