INTERVIEW: Marshall Islands reaffirms ties
SPREADING GOODWILL The president of the Pacific island ally said relations with Taiwan would only get better, stressing that his country `has no enemies'
The Marshall Islands and Taiwan will enjoy a strong friendship for many decades to come, the leader of the Pacific island country said on Tuesday, touting the close relationship between the nations since the establishment of diplomatic ties 10 years ago.
Marshal Islands President Litokwa Tomeing, visiting Taiwan for the first time as the president, affirmed that Taiwan-Marshall Islands relations remain firm.
"Taiwan has made many valuable and practical contributions to the people of the Marshall Islands. The relations between the two nations will only grow stronger for the next decade or more," he said in an interview with the Taipei Times.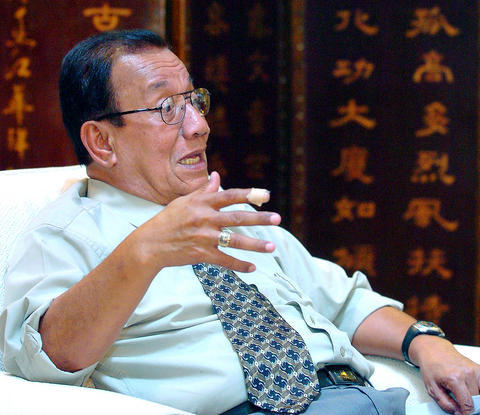 Marshall Islands President Litokwa Tomeing gestures with a bandaged finger during an interview with the Taipei Times on Tuesday.
PHOTO: LIAO CHEN HUEI, TAIWAN TIMES
Ties were called in question late last year when Tomeing won the seat after staunch pro-China rhetoric during his campaign.
The former speaker was quoted last November as saying the Marshall Islands had "wronged China" by recognizing Taiwan in 1998 and that he planned to adopt a "one China" policy once in office.
Taiwan quickly reacted by accusing Beijing of injecting large sums of money to sway the election.
But so far both the Ministry of Foreign Affairs and Majuro have stressed that relations between the two countries are stable.
The relationship was further buttressed in January when Vice President Annette Lu (陳水扁) paid a state visit to the islands.
Since establishing relations with the country in 1998, Taiwan has become Majuro's second largest donor -- behind the US -- by providing an annual financial package of US$10 million.
Taiwan also provides humanitarian assistance in the form of medical and agricultural missions.
When asked how he plans to strike a balance between the pro-China and pro-Taiwan voices in his government, he simply said that the Marshall Islands has an "open-door policy" to welcome all those who seek the country's friendship.
"The country has no enemies," Tomeing said.
He added that he believes cross-strait problems should remain solely between Taiwan and China.
"We support Taiwan because it is a democratic country. The Republic of the Marshall Islands government has confidence that the two countries will reach a mutual understanding," he said, adding that "only time can tell" when and how the issue will be resolved.
Tomeing said he believed that Taiwan could increase its pool of friends in the Pacific by continuing to display its goodwill.
"So long as Taiwan continues to demonstrate its strength in terms of goodwill toward Pacific allies, the world will see its friendly gesture," he said.
"Eventually, the nations that are not in Taiwan's corner will see the advantage of recognizing Taiwan as an independent country," he said.
Comments will be moderated. Keep comments relevant to the article. Remarks containing abusive and obscene language, personal attacks of any kind or promotion will be removed and the user banned. Final decision will be at the discretion of the Taipei Times.