Presidential election 2008: 6 days to go: KMT official tells DPP to prove bribery claims
COMPLACENCY Concerned that KMT clashes with DPP supporters outside Hsieh's office recently could affect his bid, Ma urged his supporters to come out and vote
Chinese Nationalist Party (KMT) Vice Chairman John Kuan (關中) yesterday dismissed Democratic Progressive Party (DPP) accusations that he had bribed voters, vowing to commit suicide if the rival party could back its claims.
DPP legislators Wang Sing-nan (王幸男) and Lee Chun-yee (李俊毅) on Friday accused Guan of promising to give seven township heads in Chiayi County about NT$500,000 if they help campaign for KMT presidential candidate Ma Ying-jeou (馬英九).
Guan lashed out at Wang and Lee for making false statements and later filed a defamation lawsuit against the two.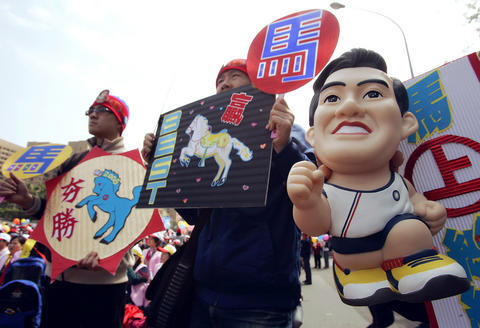 A supporter of Chinese Nationalist Party (KMT) presidential candidate Ma Ying-jeou holds up a figurine depicting Ma during an election campaign in Taipei yesterday. The placard on the left reads, ``Ma wins.''
PHOTO: BOBBY YIP, REUTERS
"I will accept my punishment and commit seppuku at the party's headquarters if they can present evidence that I have bribed others," Guan told a press conference at KMT headquarters. "The two legislators should also end their lives if they cannot prove their allegations."
Seppuku refers to the Japanese ritual of committing suicide by disembowelment.
Meanwhile, Ma yesterday warned his supporters not to be too optimistic about his election bid, and urged them to help boost the turnout ratio to 75 percent by showing up and voting at Saturday's election.
"We need to have a sense of crisis as the election approaches. The situation is tense, and I will lose the election if you fail to vote," Ma said while soliciting support at the Cheng Kung public housing complex in Taipei.
Media reports of four KMT legislators barging into the Taipei campaign headquarters of DPP presidential candidate Frank Hsieh (謝長廷) on Wednesday have dealt a blow to the Ma campaign. The incident turned into a violent clash between the legislators and Hsieh's supporters, and Ma is concerned it may have a negative impact on his election bid.
Returning to Taipei from his nationwide campaign tour, Ma, a former Taipei mayor, thanked local residents for their long-term support, while lashing out at the DPP administration for its poor performance over the past eight years.
"Mr. Hsieh and his running mate Su Tseng-chang (蘇貞昌) are both responsible for the administration's poor performance. Expecting them to change Taiwan for the better would be a mistake," he said.
Comments will be moderated. Keep comments relevant to the article. Remarks containing abusive and obscene language, personal attacks of any kind or promotion will be removed and the user banned. Final decision will be at the discretion of the Taipei Times.