Railway agency introduces new washing system
CLEAN MACHINE A survey last year by the ministry of transportation showed that most passengers considered TRA's trains to be fairly clean. Now they are even cleaner
The Taiwan Railway Administration (TRA) has introduced a new car-washing technique, allowing it to keep its carriages cleaner than they have been before.
TRA deputy director-general Chang Ying-huei (張應輝) said yesterday that the administration has been using nano-photocatalyst and nano-anti-fouling coatings -- both developed by Taiwan's Industrial Technology Research Institute -- to help clean train cars since October.
NANO-PHOTOCATALYST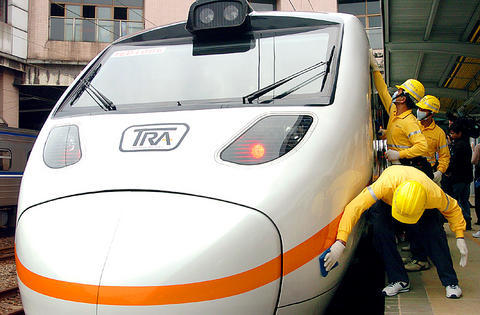 Taiwan Railway Administration employees yesterday demonstrate how trains are washed using new carwashing and waxing techniques at a press conference at Shulin station.
PHOTO: CHIEN JUNG-FONG, TAIPEI TIMES
The nano photocatalyst is mainly used to disinfect and refresh the air of lavatories onboard, whereas the use of anti-fouling coatings will help prevent the window panes from accumulating dust and water stains.
He said that the administration hired contractor the Taiwan Super Wash Corp (台灣斯巴克環境工程) to hand-wash all of their train cars and apply these substances while cleaning them.
The same company was also hired by the Taiwan High Speed Rail Corp to wash their trains.
For their newly purchased EMU 700 model commuter trains and their tilting trains (or Taroko Express), the contractor is also required to wax the body of the train cars.
COST
In a briefing to the press yesterday morning, the administration said that it spends NT$370 million (US$11.2 million) a year to clean train carriages.
The administration added that a survey last year by the Ministry of Transportation and Communications showed that a majority of passengers considered TRA's trains to be fairly clean, which helped it score 80 out of 100 in this category.
The presentation also showed on average the train needs to be washed twice a day.
It said the train needs to be washed whenever it has been driven for about 300km to 400km.
A single wash generally takes about 30 minutes.
After every 800km, the train cars are washed with more thorough methods, taking 40 minutes to an hour.
In addition, all trains undergo a monthly was that takes three hours.
Trains must be thoroughly washed once a month, which will take about three hours.
The TRA has 1,430 train cars. It also owns about 300 locomotives.
Chang further briefed the press on the purchase of tilting trains.
The administration has bought 48 tilting train cars from a Japanese manufacturer.
IN OPERATION
Twenty-four of them are now in operation.The other 24 cars will be delivered in two batches.
Sixteen of them are scheduled to arrive in Keelung Port on Friday, whereas the rest of them are to arrive next Saturday.
Chang said the administration is planning to have tilting trains operate from Changhua to Taipei and to Hualien.
Comments will be moderated. Keep comments relevant to the article. Remarks containing abusive and obscene language, personal attacks of any kind or promotion will be removed and the user banned. Final decision will be at the discretion of the Taipei Times.