Police monitor gangster's funeral
CLOSELY WATCHED After a heckler disrupted him, President Chen Shui-bian said that his administration would never train people like the former gang leader to kill dissidents
Police yesterday carried out heavy surveillance at Chen Chi-li's (陳啟禮) funeral service in Dazhi (大直) where hundreds of gang members showed up to bid farewell to the former Bamboo Union (竹聯幫) leader.
Police dispatched several hundred uniformed and plain-clothed officers to stand guard, in addition to setting up equipment to videotape the entire service.
Chen died of pancreatic cancer in Hong Kong on Oct. 4. He was 64.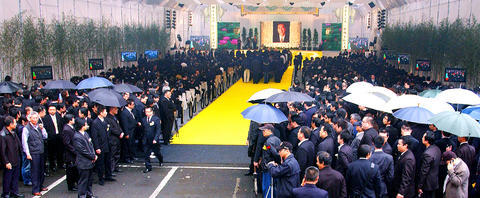 Thousands of mourners attend the funeral of crime figure Chen Chi-li in Taipei yesterday. Chen, who turned the Bamboo Union into one of Taiwan's largest gangs, died of pancreatic cancer in Hong Kong on Oct. 4. Taiwanese police were on high alert as gangsters from Taiwan, Hong Kong and Japan were expected to show up for Chen's funeral.
PHOTO: AFP
The Criminal Investigation Bureau said that senior officers from Taipei City's 14 precincts have organized a special task force to identify gang members so fellow officers could take pictures of them and set up their file records for future reference.
Kao Cheng-sheng (高政昇), deputy commissioner for the bureau, estimated that at least 600 gang members from Taipei, Taoyuan, Taichung and Chiayi took part in the funeral yesterday.
Thirty alleged gang members were interrogated by police yesterday for carrying guns, baseball bats and shock rods to the venue, he said.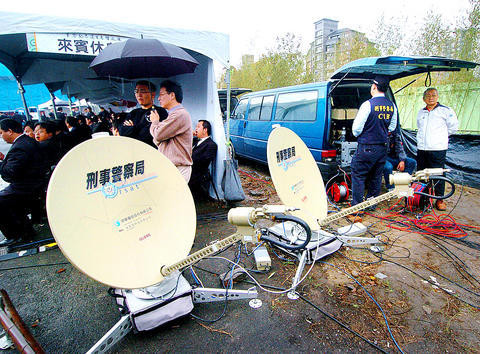 Police yesterday reinforce surveillance with satellite monitoring equipment at Chen Chi-li's funeral in Taipei. Chen was the former leader of the Bamboo Union underworld syndicate.
PHOTO: FANG PIN-CHAO, TAIPEI TIMES
Chen Chi-li was best known for his involvement in the October 1984 assassination of Chinese-American writer Henry Liu (江南) at his home in San Francisco, before he could complete a critical biography of then president Chiang Ching-kuo (蔣經國).
Chen was arrested in Taiwan one month later during a crackdown on organized crime.
At his trial, Chen Chi-li said he had carried out the murder at the request of Admiral Wang Hsi-ling (汪希苓), the head of the Military Intelligence Bureau, who suspected Liu of spying for Taiwan, China and the US.
Wang said in court that he gave Chen Chi-li the order to carry out the assassination out of patriotism.
Chen was sentenced to life in prison but released on parole in 1991 after a pardon. He later fled to Cambodia during another clampdown on organized crime and had lived in self-imposed exile there since 1996.
At a separate setting yesterday, President Chen Shui-bian (陳水扁) said the Democratic Progressive Party (DPP) administration will never train people like Chen Chi-li to assassinate dissidents.
"Unlike the former KMT government, we will not send Chen Chi-li to take people out," he said.
"We respect dissenting voices because the DPP is a party of such nature. We are not like the Chinese Nationalist Party (KMT) that decides everything by one man's say," he said.
President Chen made the remark after a heckler disrupted him while he was answering a question from the media after attending exhibitions at the World Trade Center.
The president was distracted when the heckler shouted, "We have such a hard time living a decent life."
He soon regained his composure and said he heard what the man said and did not mind the disturbance because it is a democratic and pluralistic society.
The heckler apparently lived a decent life or he would not have had the time, mood and money to see the exhibitions, President Chen said of the incident at another setting later yesterday.
"I did not want to embarrass him but I was quite amused," he said.
"We tolerate and respect different opinions, because that is the essence of democracy," he said.
"Although opposition parties and some in the media humiliate me and the DPP administration on a daily basis, I am proud to say that their freedom of speech and press are well protected," he said.
Additional reporting by AFP and staff writer
Comments will be moderated. Keep comments relevant to the article. Remarks containing abusive and obscene language, personal attacks of any kind or promotion will be removed and the user banned. Final decision will be at the discretion of the Taipei Times.