Environmentalists urge protection of rainforests
MISSION The Bodhicitta Mandala Foundation is on a campaign to save a 4,000 hectare rainforest in the south of Sumatra, and it said Taiwanese should help
Indonesian environmental groups yesterday performed a skit depicting disappearing rainforests and Sumatran tigers, and urged Taiwanese to do their bit to protect the rainforests and help save endangered species from extinction.
Sumatra environmental activist Bhiksu Nyanaprathama told a press conference at the Tien Cultural Foundation in Taipei that, "rainforests host the world's most extensive planetary gene pool," adding that, "they are also crucial for regulating weather."
Losing vast tracts of rainforest will lead to a decrease in genetic diversity, which will in turn increase the rate of extinction of all life on Earth, he warned.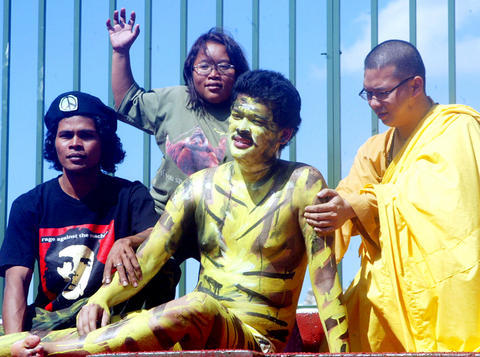 Members of the Taiwan Environmental Protection Union, the Yunlin Environmental Protection Union and Indonesian environmental activist Bhiksu Nyanaprathama, right, perform a skit in Taipei yesterday to back calls for the international community to save the Sumatran tiger, the rainforest and the natural world.
PHOTO: CNA
The group is asking Taiwan to commit technology and human resources for their cause.
Indonesia is home to the third largest rainforest in the world, but it is losing the equivalent of 10 football fields per minute because of global warming and extensive logging, Nyanaprathama said, adding that the country is also losing 30 to 40 Sumatran tigers per year.
At this rate, Sumatra tigers will be extinct within the next 10 years, he said.
Rainforests are characterized as having annual rainfalls between 1,750mm to 2,000mm. The largest tropical rainforests are found in Central and South America, equatorial Africa and Southeast Asia.
Nyanaprathama, founder and chairman of the Bodhicitta Mandala Foundation (BMF), is on a campaign to save a 4,000 hectare rainforest in Sandean, in the south of Sumatra.
Taiwan Environmental Protection Union vice chairman Chang Tsu-Chien (張子見) said that tropical rainforests cover less than 3 percent of land on the planet, down from the original 12 percent because of human factors.
"The short-term effects of losing rainforests include increased effects of global warming, as it contributes to a 20 percent increase of greenhouse gases annually," Chang said. "In the long-term, many rainforest planet species with medicinal benefits for illnesses such as cancer will disappear. Losing them would be costly."
Nyanaprathama pleaded with Taiwan to offer help with the issue, saying that rainforests are joint assets of the world.
Chang, echoing Nyanaprathama's plea, said "Taiwan's greenhouse gas emissions per capita is three times the world average."
"We are responsible for 1 percent of the world's total emission, and the number continues to grow. We should consider our social responsibilities on the issue of rainforest conservation," Chang said.
He also said that many people in Taiwan buy animals to release into the wild for religious reasons, although this kind of help is minimal and may upset the balance of ecosystems.
"Instead, we should relocate our funds to life conservation causes such as this," he said.
Comments will be moderated. Keep comments relevant to the article. Remarks containing abusive and obscene language, personal attacks of any kind or promotion will be removed and the user banned. Final decision will be at the discretion of the Taipei Times.