Chen dismisses nuclear program claims as `lie'
Following the premier's dismissal on Friday of a legislator's accusation that the government had launched a nuclear weapons program, President Chen Shui-bian (陳水扁) yesterday also dismissed the claim as false.
Chen said "there is no nuclear missile in Taiwan," adding that the Democratic Progressive Party (DPP) administration "is not going to develop any nuclear missiles."
Chen made the remarks during a trip to Tainan City, in response to Chinese Nationalist Party (KMT) Legislator Su Chi's (蘇起) claims.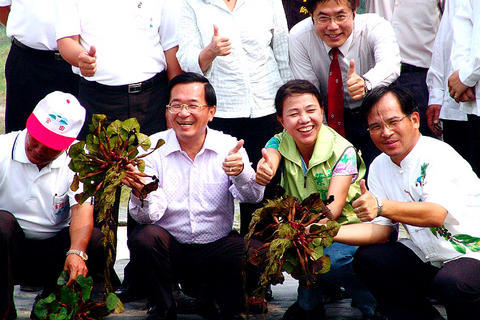 DPP Legislator Yeh Yi-chin, second right, Tainan County Commissioner Su Huan-chih, right, and President Chen Shui-bian, second left, pose at a water chestnut festival in Kuantien, Tainan County, yesterday.
PHOTO: CNA
At a question-and-answer session at the legislature on Friday, Su said that the president had recently ordered Chungshan Institute of Science and Technology under the Ministry of National Defense to begin developing nuclear weapons, including nuclear warheads.
Su said he had overheard a heavyweight DPP legislator talking about the nuclear program and saying he was against it.
Premier Chang Chun-hsiung (張俊雄) responded to Su, saying the government would not "develop, produce or acquire" nuclear, biological or chemical weapons.
Despite the threat posed by hundreds of Chinese missiles aimed at Taiwan, the development of Taiwan's military weapons focuses on war prevention and self-defense, Chang said.
During an interview with the Central News Agency later on Friday evening, Su acknowledged that he had no evidence to back his claims, eventually conceding that he had drawn his conclusions based on "inference."
He said that he had inferred that the government had launched a nuclear weapons program based on information he has "accumulated over the years, as well as on observations and an understanding of the international situation."
Su said that the remarks he claimed to have overheard were "the last straw" and had brought him to a final conclusion.
Su said "the government's intention to develop nuclear weapons" was a "big change," adding that he felt an obligation to "disclose this information."
Chen called Su's claims "a complete lie," adding that making up such a "sensational story" indicated the legislator did not care about national security and interests.
Chen said that the KMT government had considered developing nuclear weapons 20 years ago, adding that it was preposterous to pin such allegations on the DPP.
Comments will be moderated. Keep comments relevant to the article. Remarks containing abusive and obscene language, personal attacks of any kind or promotion will be removed and the user banned. Final decision will be at the discretion of the Taipei Times.