Hsieh stands firm on Chinese capital
RAISING EYEBROWS The presidential candidate said he was not against opening up to PRC investors, but played down the apparent contradiction with the administration
Democratic Progressive Party (DPP) presidential candidate Frank Hsieh (謝長廷) yesterday stood firm by his comments that he would welcome Chinese capital on the local market despite criticism from DPP government officials.
"Taiwan is open to the whole world. We welcome capital from around the world, which includes that from China of course," Hsieh told reporters on the sidelines of a press conference held to announce his official campaign color.
Hsieh said on Thursday that he was not against opening the local market to Chinese capital and white-collar immigrants, but added that any investment related to national security and certain agricultural technology must be regulated.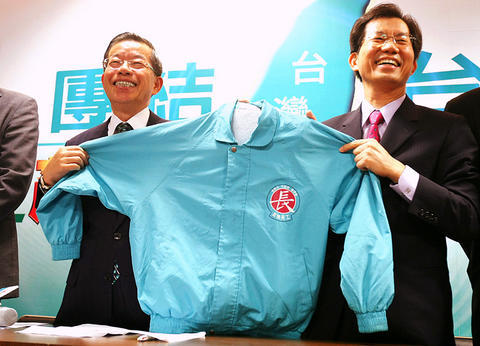 Democratic Progressive Party presidential candidate Frank Hsieh, left, and campaign manager Lee Ying-yuan yesterday hold up the campaign jacket Hsieh used when he was running for Taipei mayor.
PHOTO: CNA
His remarks raised eyebrows as it came on the heels of a statement by Mainland Affairs Council (MAC) Chairman Chen Ming-tong (陳明通), who responded to a lawmaker's question on Wednesday by saying the DPP administration would not allow China Investment Corp (CIC) to invest in Taiwan.
CIC chairman Lou Jiwei (樓繼偉) had announced in Beijing that the Chinese state-owned company planned to invest in Hong Kong, Macao and Taiwan.
Hsieh yesterday played down the apparent contradiction between his comments and that of the administration.
"What I said reflected what I am going to do if elected president. There is no contradiction," Hsieh said.
He said that there is nothing wrong with establishing normal relations with China as long as Taiwan's sovereignty and dignity are not compromised.
"The goal of normalizing cross-strait relations requires that we treat each other with respect and interact peacefully," Hsieh said.
Chen yesterday declined to comment on the platform proposed by the DPP presidential candidate.
Hsieh's comments "do not reflect the government's position," Chen said. "It is just a candidate's platform ahead of an election. Eventually, voters will decide whether or not they agree with it."
Later yesterday, MAC Vice chairman Johnnason Liu (劉德勳) told a routine press conference that the issue of opening up to Chinese investment depends on China.
"We lifted the ban on investment in the real estate market by Chinese capital in 2002, but China has yet to choose Taiwan as an investment target," Liu said.
At a separate setting yesterday. Chinese Nationalist Party (KMT) presidential candidate Ma Ying-jeou (馬英九) challenged Hsieh's words, arguing that it contradicted DPP government policy.
"The Government Information Office has already played down the issue of relaxation of the investment regulation," Ma said yesterday during a visit to Hualien County.
Ma criticized Hsieh for failing to realize those policies in his capacity as the premier, while urging his opponent to present detailed measures and strategies, rather than making empty promises.
Additional reporting by Mo Yan-chih
Comments will be moderated. Keep comments relevant to the article. Remarks containing abusive and obscene language, personal attacks of any kind or promotion will be removed and the user banned. Final decision will be at the discretion of the Taipei Times.