Chen returns, says Marshall Islands trip a success
President Chen Shui-bian (陳水扁) returned from the Marshall Islands last night, saying the trip was a success.
Chen said he has now attended three successful summits with diplomatic allies in Central America, Africa and the Asia-Pacific region in the last three months and established multilateral strategic partnerships.
Chen added that all the attendants at the summit shared the universal values of democracy, freedom, human rights, peace and public welfare. They praised Taiwan's freedom, democracy, political reforms and economic development and said it is an independent country, he said. They also expressed their support for its efforts to gain UN membership under the name "Taiwan."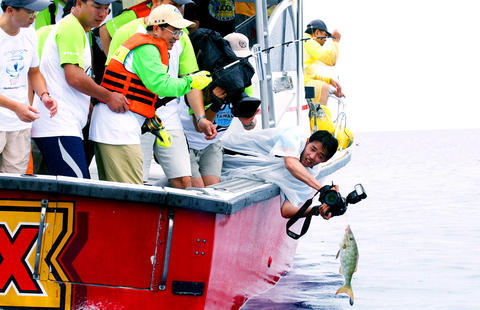 President Chen Shui-bian, third left, participates in a fishing competition yesterday morning between two teams made up of attendees at the Marshall Islands summit.
PHOTO: CNA
Chen returned to Taipei after spending the morning sea fishing in the Marshall Islands with his South Pacific counterparts.
Paired with Marshall Islands President Kessai Note, Chen boarded a boat yesterday morning to go fishing around a coral reef islet, where the two presidents caught a fish weighing 14kg during the two-hour outing.
The Chen-Note team beat the rival team of Palauan President Tommy Remengesau and Nauruan President Ludwig Scotty in the two-way sea fishing championship between the heads of states.
Chen joined Note, Remengesau, Scotty, Solomon Islands Prime Minister Manasseh Sogavare and Tuvaluan Prime Minister Apisai Ielemia and other officials from the host country for a barbecue lunch.
At the barbecue, Government Information Office Minister Shieh Jhy-wey (謝志偉) performed a rap song with the lyrics "UN, UN for Taiwan, Taiwan No. 1," which received a big round of applause.
Upon the conclusion of the summit, the seven heads of states jointly proclaimed the Majuro Declaration, in which the six presidents of South Pacific nations vowed to staunchly support Taiwan's UN bid.
Chen solicited support from the allies in his campaign for the establishment of a World Environment Organization under a UN framework.
Comments will be moderated. Keep comments relevant to the article. Remarks containing abusive and obscene language, personal attacks of any kind or promotion will be removed and the user banned. Final decision will be at the discretion of the Taipei Times.