`Next' faces water lawsuit
DRINK UP While bottlers say that their product is pure and has health benefits, the weekly ran a story claiming that the product could contain carcinogens
The Chinese-language Next Magazine is facing legal action from vendors of deep-sea water for reports that described their product as "possibly carcinogenic" and "simply a racket."
Three Taiwanese deep-sea water bottling companies yesterday pressed charges against the magazine, seeking damages of NT$3 billion (US$90.4 million).
In its latest edition, Next Magazine ran a story titled "Poison alert: experts expose the racket of deep sea water." The article claimed that deep-sea organisms might produce "fluorescent carcinogenic toxins."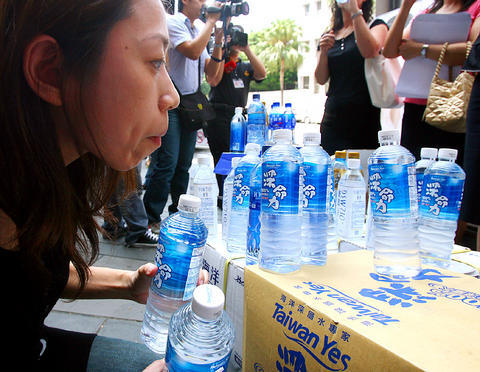 A woman looks at bottles of deep-sea water outside the Taipei District Prosecutors' Office yesterday, where water vendors pressed charges against the Chinese-language Next Magazine for publishing a report that the products were ''possibly carcinogenic'' and ''simply a racket.''
PHOTO: WANG YI-SUNG, TAIPEI TIMES
The expert quoted in the article was Hu Szu-tsong (胡思聰), an associate professor at National Taipei University of Technology. The three companies have also filed charges against Hu.
A joint response by the companies said that no studies had found that substances released by marine creatures adversely affect the quality or safety of the water for human consumption.
The companies claim that desalinated deep sea water is pure and has health benefits.
Water pumped from a depth of hundreds of meters in the ocean off Japan and Hawaii first became a sensation with consumers in Japan, spreading to other markets.
The Associated Press reported in May that deep-sea water had become Hawaii's biggest export. Taiwan has been following the trend, and domestic producers started retrieving deep-sea water off the coast of Hualien with assistance from the government.
Local cable network ETToday yesterday reported that the Water Resources Agency has assembled a panel of experts to respond to Next Magazine's article.
Agency officials said that the water pumped up near Hualien is frequently tested to ensure the safety of the product.
Next Magazine executive editor Pei Wei (裴偉) yesterday defended the report.
In a report carried by the Chinese-language United Evening News, Pei said the article did not attack specific vendors, but rather highlighted issues surrounding deep-sea water.
"The vendors claim that ocean water from more than 200m deep is toxin-free, but researchers have found otherwise," Pei was quoted as saying in the United Evening News.
Comments will be moderated. Keep comments relevant to the article. Remarks containing abusive and obscene language, personal attacks of any kind or promotion will be removed and the user banned. Final decision will be at the discretion of the Taipei Times.