Negroponte sends multiple messages
SWEET AND SOUR President Chen Shui-bian wouldn't have liked what he heard from John Negroponte on Monday, but sources in Washington say it wasn't all bad news
US Deputy Secretary of State John Negroponte's decision to vent high-level US anger in a Chinese TV interview at President Chen Shui-bian's (陳水扁) plan for a referendum on UN membership was intended to convey separate messages to Taiwan, Chen and China at a critical point in trilateral relations, according to several sources in Washington.
In the interview on Monday in Washington, Negroponte charged that the referendum was a move toward a declaration of independence, the most severe criticism a US official can level at a Taiwanese leader, given US fears that a declaration would foment Chinese military action that could suck US armed forces into a conflict with China.
The interview was intended to convey many messages, sources said.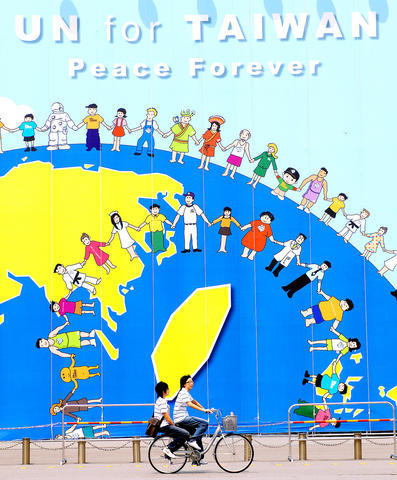 Children ride past a billboard in support of Taiwan's UN bid in front of the Presidential Office in Taipei yesterday.
PHOTO: AFP
It was intended to convey to Chen Washington's deep disdain for many of his actions, especially the referendum, while reiterating the US' great friendship with Taiwan. It was also meant to assure China that the US is working hard to contain Chen, not just at the lower level of the foreign policy bureaucracy, but at the highest levels in the Bush administration.
It was a message that "the emperor does know" about the situation, one source said.
It apparently was also timed to coincide with Chen's transit via Anchorage, Alaska, to and from Central America, and in advance of key US-China meetings next month at the APEC summit in Australia, the visit to Washington shortly thereafter of China's top Taiwan affairs official and the opening of the UN General Assembly next month.
While the State Department on Tuesday tried to paint Negroponte's statement as merely a reiteration of long-standing policy, observers said it was clearly a "ratcheting up" of the US warnings about the referendum "at a high level."
The connection with Chen's transit absorbed the thinking of some observers in Washington in the wake of the interview, which Negroponte granted on Monday to Phoenix TV, a Hong Kong-based station owned by a Chinese businessman and beamed mainly to senior Chinese government officials, the Beijing diplomatic corps, foreign and elite local businessman, the expatriate community and Western tourists.
A transcript was made available by e-mail shortly after the interview, allowing the Taiwanese press corp and anybody else interested in cross-strait relations to read it the same day.
Phoenix had a long-standing request for an interview, with the last follow-up request last month in connection with Democratic Progressive party (DPP) presidential candidate Frank Hsieh's (謝長廷) visit to Washington, when Negroponte happened to be out of town.
Last week, Negroponte's office decided that the time for the interview had come. The office decided that "it was the right time to send this kind of a message," according to a source familiar with the arrangements.
It was agreed that the interview would be about Taiwan and the referendum, and the questions were discussed beforehand.
The decision last week to demonstrate Washington's anger came after Chen, during his stopover in Alaska en route to Central America, complained loudly about his treatment, in which he was limited to a 50 minute refueling stop, calling the arrangements a slap in the face of the Taiwanese.
That may have impelled the department to arrange the interview a day before Chen was to return through Alaska and meet with American Institute in Taiwan Chairman Raymond Burghardt, who would have access to a copy of the interview to show to Chen during their meeting.
Sources say, however, that an important message for Taiwan in the interview was to reinforce the US friendship for Taiwan, which Negroponte emphasized at the beginning of his remarks.
"Let me say first that Taiwan has no better friend than the United States," he told the interviewer, adding kudos for Taiwan's democracy and economy and repeating the US commitment to Taiwan's defense.
But he also complained that Chen had broken his commitment made in his first inaugural address to the so-called "four noes," in which he pledged, among other things, not to change Taiwan's official name.
The Bush administration has never forgiven Chen for actions it sees as violating that pledge, and those actions, in the Bush administration's eyes, have poisoned relations ever since.
How Chen reacts to Negroponte's message will be an important signal to Washington, sources said. That would include what he says to Burghardt in Anchorage.
Bush will be looking at Chen's response in advance of his APEC bilateral with Chinese President Hu Jintao (胡錦濤) and may want to say something publicly about Taiwan.
After that meeting, Chen Yunlin (陳雲林), the chief of Beijing's Taiwan Affairs Office, travels to Washington for high-level talks on the US-China-Taiwan triangular relationship, and the referendum is certain to be high on the agenda, depending on what happens between now and then, sources said.
Also see story:
Editorial: What does `friendship' mean?
Comments will be moderated. Keep comments relevant to the article. Remarks containing abusive and obscene language, personal attacks of any kind or promotion will be removed and the user banned. Final decision will be at the discretion of the Taipei Times.