Lawmakers blast police treatment of protester
Democratic Progressive Party (DPP) Legislator Kao Chien-chih (高建智) and DPP Taipei City Councilor Chuang Jui-hsiung (莊瑞雄) yesterday called on the police not to apply double standards to people who stage protests against politicians.
The call came a day after a man in Tainan County's Guantian Township (官田) was taken away with his mouth covered shortly before Chinese Nationalist Party (KMT) presidential candidate Ma Ying-jeou (馬英九) arrived.
The man had said he wanted to voice his dissatisfaction to Ma outside a care center for the elderly, where Ma was scheduled to meet local residents.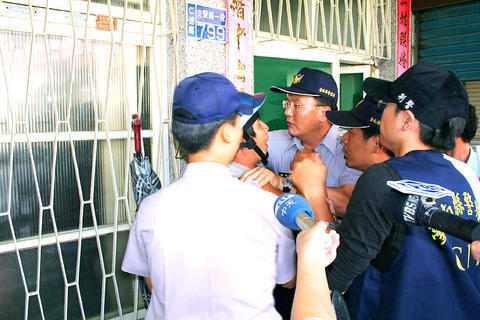 Police in Tainan County stop a pro-green supporter from voicing his dissatisfaction with Chinese Nationalist Party (KMT) presidential candidate Ma Ying-jeou during the former Taipei mayor's visit to Guantian Township on Thursday.
PHOTO: LIN MENG-TING, TAIPEI TIMES
Police were stationed there to maintain order, as the care center is just a few minutes away from President Chen Shui-bian's (陳水扁) hometown.
The DPP officials said that the police had been too harsh against members of the public who stage protests against Ma and too tolerant of those who protest against Chen.
"The way the man was treated by the police was a violation of his rights and freedom of expression," Kao said, adding that police had not treated protesters against the president that way during last October's demonstrations.
Chuang said that Ma should not enjoy such high-profile protection from the police because he is neither a public servant nor an officially registered presidential candidate.
Tainan County Police Chief Huang Fu-sheng (黃富生) yesterday apologized for the behavior of his officers.
"The director of Tainan County Kueijen (歸仁) police station, Chen Yao-nan (陳耀南), who was in charge during the incident, was disciplined today after his police officers abused their power in forcing the protester to leave the site," Huang said.
Huang said Chen Yao-nan had given the order to remove the man from the site.
Huang said his police officers would behave better in the future.
Additional reporting by Rich Chang
Comments will be moderated. Keep comments relevant to the article. Remarks containing abusive and obscene language, personal attacks of any kind or promotion will be removed and the user banned. Final decision will be at the discretion of the Taipei Times.