Controversial Chinese flag taken off to make way for Chen's conference speech
China's national flag was taken down at an international conference yesterday when President Chen Shui-bian (陳水扁) delivered the opening speech.
As China is a member of the World Congress of Master Tailors, its national flag, along with those from more than a dozen other countries, was hung at the venue at the International Convention Center.
However, the organizers removed the Chinese flag hanging in the conference hall where Chen delivered the opening speech. Security personnel also guided Chen so that he could avoid seeing another flag hanging over the escalators in the first-floor lobby while leaving the venue.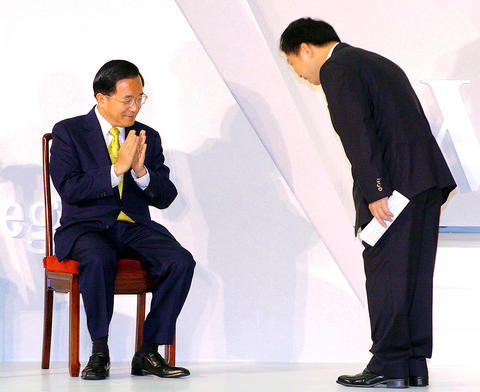 Ho Liang-hung, right, chairman of the World Congress of Master Tailors, bows to President Chen Shui-bian during the opening ceremony of the international conference in Taipei yesterday.
PHOTO: LIAO CHEN-HUEI, TAIPEI TIMES
Organizers said they took down the Chinese flag at the conference hall because Chinese representatives were visiting Sun Moon Lake in Nantou County and could not attend yesterday's opening ceremony. The flag was put back up after Chen left.
The organizers also said they planned to play the Chinese national anthem, but dropped the plan because the Chinese delegation failed to provide them with the recorded tape.
This year marked the first time Taiwan has hosted the biennial conference of the World Congress of Master Tailors, which was founded in 1935. More than 300 designers and representatives from 16 countries in the tailoring industry attended the conference, which runs through Friday.
Taiwan joined the organization in 2003 and won the top honor in women's clothing and silver prize in men's clothing at the Golden Needle and Golden Thread International Competition in Berlin, Germany, in 2005.
The competition is part of the official schedule for the World Congress, which was founded to encourage tailors to pass on their skills to the next generation.
Aside from speaking at the opening ceremony, Chen met foreign guests attending the conference at the Presidential Office yesterday afternoon.
Chen told the guests that Vice President Annette Lu (呂秀蓮) would participate in tonight's fashion show, wearing an outfit tailor-made for her by a congress member.
Chen said that Taiwan ranked as the world's sixth-most creative country, with its creativity covering a wide range from semiconductors and flat-screen panels to baseball, filmmaking and tailoring.
Comments will be moderated. Keep comments relevant to the article. Remarks containing abusive and obscene language, personal attacks of any kind or promotion will be removed and the user banned. Final decision will be at the discretion of the Taipei Times.