Politicians unite to pay tribute to Chiang Wei-shui
PAYING TRIBUTE Ma Ying-jeou and DPP Chairman Yu Shyi-kun were among those who gathered to celebrate the man who sought to uproot 'intellectual malnutrition'
Pan-blue and pan-green politicians yesterday paid tribute to Taiwanese democracy pioneer Chiang Wei-shui (蔣渭水) to mark the 76th anniversary of his death.
A physician and literature lover, Chiang was the founder of the Taiwan Culture Association (台灣文化協會) and the Taiwan People's Party (台灣民眾黨), the country's first political party.
Born in 1891 in Ilan County, in 1921 Chiang launched the nation's first large-scale cultural enlightenment movement when he organized the Taiwan Culture Association.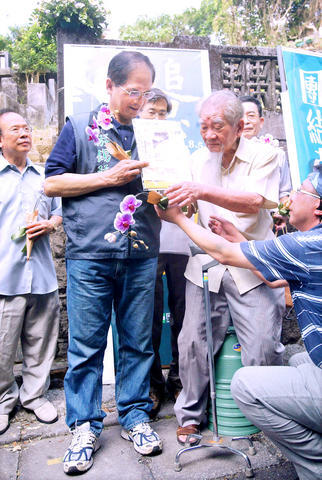 Chiang Sung-hui, son of Taiwanese democracy pioneer Chiang Wei-shui, stands next to Democratic Progressive Party Chairman Yu Shyi-kun at a ceremony marking the 76th anniversary of Chiang Wei-shui's death in Taipei yesterday.
PHOTO: CNA
Chiang said that he sought to "uproot Taiwanese intellectual malnutrition."
He also organized the New Taiwan Alliance and the Taiwanese Labor Alliance in a quest for a more liberal and independent state.
Chinese Nationalist Party (KMT) presidential candidate Ma Ying-jeou (馬英九) yesterday paid a tribute to Chiang at Chiang Wei-shui Memorial Park in Taipei.
Ma said there was no need for the pan-blue and pan-green camps to wrangle over Chiang's stance on the issue of independence.
"He earned respect from [his] next generation for his contribution to Taiwanese politics, culture and society between 1921 and 1930," he said. "Therefore, we need not make excessive inferences and associations [about his political stance] because that would only cause unnecessary harm to his memory."
"Chiang was a great man not only because he resisted the colonialism of Japan, but also because he pushed cultural enlightenment and social reform," he said.
Accompanied by Chiang's nieces, Ma also read a poem written by poet Yang Tu (楊渡), who serves as commissioner of the KMT's Culture and Communication Committee.
"Take care of those who suffer; help those who hate each other become reconciled; offer friendship to those who are lonely. Let us have a promising future," the poem said.
The Democratic Progressive Party (DPP) also paid tribute to Chiang at his tomb at Taipei's Liuzhangli (六張黎) cemetery.
DPP Chairman Yu Shyi-kun was joined by Chiang's son Chiang Sung-hui (蔣松輝), Huang Huang-hsiung (黃煌雄), president of the Chiang Wei-shui Foundation, and several DPP officials.
Yu received a set of memorial stamps of Chiang from the foundation, a gesture Yu said symbolized the inheritance of "Taiwanese spirit."
Meanwhile, the Taipei City Government yesterday publicized postcards and a guided tour map as part of the city's remembrance of the late democracy pioneer.
The tour map detailed 11 locations in Taipei City's Dadaocheng (大稻埕) related to Chiang's life.
"We attach great importance to Chiang and the new culture movement [he advocated]," Taipei City Department of Cultural Affairs Director Lee Yong-ping (李永萍) said. "We hope to establish a more thorough tour route to offer the people a better understanding of Taiwan's past."
Additional reporting by staff writer
Also see story:
Editorial: Co-opting Chiang Wei-shui
Comments will be moderated. Keep comments relevant to the article. Remarks containing abusive and obscene language, personal attacks of any kind or promotion will be removed and the user banned. Final decision will be at the discretion of the Taipei Times.